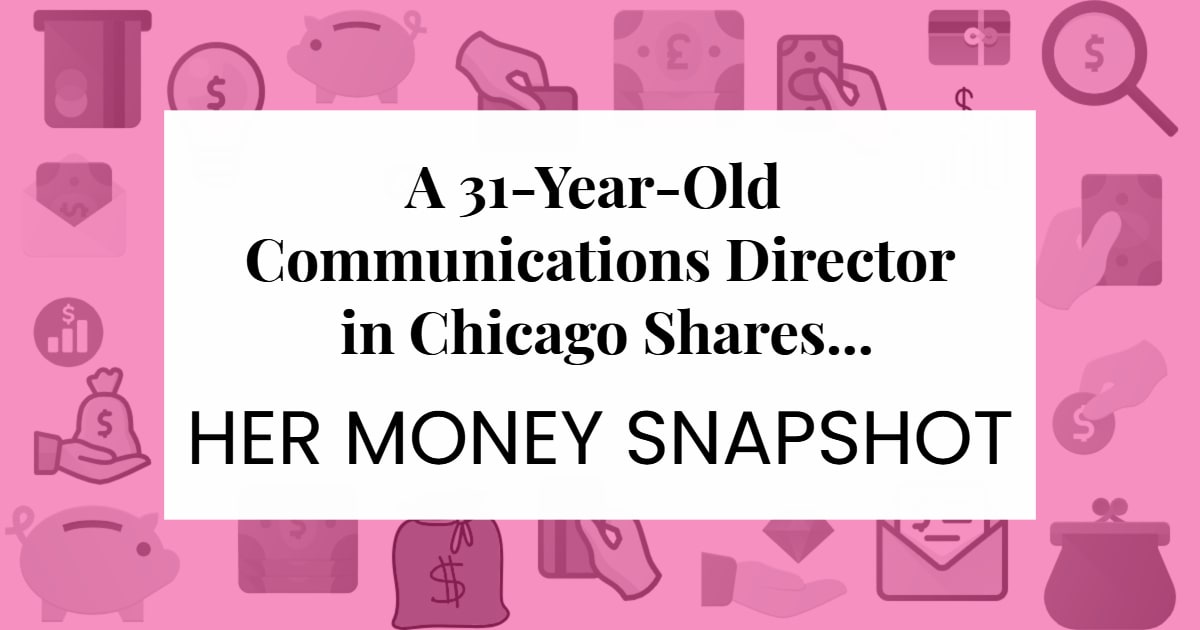 For today's Money Snapshot, we're talking salary, net worth, debt, and more with reader C, who lives in the Chicago suburbs and works as a communications director for a large school district.
She notes:
We bought our house for $300,000 in 2016. We saved up a 20 percent down payment and took out a 30-year loan. We bought before having kids; part-time daycare costs almost the same as our mortgage, and we could have never saved up for a down payment with that expense. We wanted to continue our existing lifestyle, so our goal was to take on a mortgage that equaled our rent at the time.
We got a few requests from readers to launch our own "money diary" series, so we've asked willing readers to fill out a form with lots of details about debt, spending, saving and more! If you'd like to fill out the form and be considered for a future personal money snapshot, please click here to submit your response! You can see a PDF of the questions if you want to review them ahead of time. See others in the Personal Money Snapshot series here.
Please remember that this is is a real person who has feelings and isn't gaining anything from this, unlike your usual friendly (soul-deadened, thick-skinned, cold-hearted, money-grubbing) blogger — so please be kind with any comments. Thank you! — Kat
Name: C
Location: Chicago suburbs
Age: 31 at the time of submitting her Money Snapshot; now 32
Family: husband, 32-year-old engineer; 2-year-old son
Occupation: Communications director for a large school district (formerly a journalist -> editor for large city government -> current position)
Income: $76,000
Household income: $150,000
Net worth: My husband's and my net worth is about $330,000.
Net worth when started working: I started working full time at 22 years old; my net worth was about $10,000. (I started working paid jobs at 15; net worth $0 at that time.)
Living situation: Own home; $1,750/month includes mortgage, taxes, and insurance.
Childcare costs: $287/week for part-time daycare for our 2-year-old
Because C wrote her Personal Money Snapshot before the pandemic, we asked her for an update. Here's what she wrote:
My husband and I began working remotely in March, while taking care of our very active 2-year-old. During the day, my husband and I took turns entertaining and caring for our child. When possible, we took twice-daily family walks for fresh air, exercise, and our sanity. This resulted in us working weird hours — early mornings, evenings, late nights, weekends — whenever we could squeeze in extra time. As a school communicator, my workload increased, and I felt like I spent all my time working, cooking/cleaning, or caring for our toddler. Our daily walks were my only times to relax.
In addition to the above, I was third-trimester pregnant during the quarantine and had a baby this spring. My husband continues to work remotely while I am on maternity leave, which is nice. I feel guilty to admit this, but I'm relieved to be on leave right now. It is not an easy time to be a school administrator, and I am incredibly appreciative of my colleagues who are working long hours to prepare for this unprecedented 2020–21 school year. I fortunately have a fantastic maternity sub covering my absence.
We also asked C about her career path, and here's what she had to say:
I grew up wanting to be a high school English teacher. In college, I discovered I didn't share the passion for English literature that my classmates did, so I switched to journalism, which I enjoyed much more. After working for newspapers and municipal government for a few years, I discovered that many school districts employ professional communicators. This position complemented my interests, and I've enjoyed working in this field.
Debt
What does your debt picture look like?
$250,000 total owed on our house and cars. We replaced both of our 10-year-old small sedans last year with base-trim Subaru SUVs. We put down 50% and took out 5-year zero-interest loans to pay off the rest. (We originally intended to only replace one car. A month after we bought our car, my husband got rear-ended while driving the old car, and the damage totaled it.)
How did you pay for school?
My parents generously paid my tuition for four years and my room/board for two years. I paid for all other expenses (books, supplies, personal care, car bills/gas, etc.), and I worked as an RA, which paid room/board for two years. I worked about two to three part-time jobs throughout high school and college to save for/afford these expenses.
Have you paid off any major debt?
My husband incurred more than $60,000 in student loans debt. We followed Dave Ramsey's money-saving strategies and paid off all his student loans in 2015.
Home debt: Share your theories and strategies.
We bought our house for $300,000 in 2016. We saved up a 20 percent down payment and took out a 30-year loan. We bought before having kids; part-time daycare costs almost the same as our mortgage, and we could have never saved up for a down payment with that expense.
We wanted to continue our existing lifestyle, so our goal was to take on a mortgage that equaled our rent at the time. Our monthly mortgage is $1,750, which includes principal, interest, taxes, and insurance. Right now, $420 of the bill goes toward principal. We don't currently plan to pay off the loan early.

Have you ever done anything noteworthy to avoid or lessen debt, such as cashing out your 401K early?
I took $10,000 out of my Roth IRA to contribute to my house down payment.
Savings, Investments & Retirement
How much do you save in retirement vehicles like 401Ks, Roth IRAs, and others?
I contribute $5,500 to my Roth and $3,000 to my pension. My husband contributes a lot to a 401K. Combined, we contribute about 15% of our income to retirement.
How much money do you allocate to other tax-savvy investments/accounts like HSAs, 529s, FSAs, and others?
We max out our dependent care FSA ($5,000/year?) and we are about to start a 529 for our son. We plan to put $85/month in his 529 until he starts elementary school and we no longer have a massive daycare bill.
How much do you save outside of retirement accounts?
My husband and I have a monthly budget in Google Sheets. We save about $2,000ish a month, and these savings are currently earmarked toward large home projects and our future child fund (future daycare expenses/maternity-leave loss of income). Right now, this extra money is in our checking account because there isn't a ton of it. I'd like to set up a money market to move this money to, since money market interest rates are increasing.
Do you have/use a financial adviser or planner?
My uncle is retired and dabbles in the stock market, so he manages my Roth.
Do you have an end goal for saving or are you just saving for a rainy day?
We'd like to purchase a ~$450,000 house in a few years. We'd like to have two to four children and have money to support them!
What's the #1 thing you're doing to save money, limit spending, or live frugally?
Stick to a budget!
When did you start saving seriously? How has your savings strategy changed over the years?
We seriously started saving after we got married in 2013. When we started paying for daycare in 2017, we had to tighten our budget even more, cutting out most travel, entertainment, and other superfluous expenses.
Have you ever made a big money move or investment with savings in mind, such as rolling over an older IRA into a Roth IRA or superfunding a 529?
When I left my previous public position in a different state, I cashed out that pension and placed it in a rollover IRA (which transferred to my Roth).
How much do you have in cash that's available today?
$15,000
How much do you have in cash that's available in a week?
$35,000
How much is in your "emergency fund," where do you keep it, and did you include it in the previous question?
$7,200; yes, it's included in the previous question. It's in our checking account. Our monthly budget accounts for our emergency fund.
How much do you have in retirement savings?
I have $31,000 in my Roth and $12,000 in my pension, not including my employer's contributions once I am vested. My husband has about $100,000 in his 401K.
How much money do you have in long-term investments and savings that are not behind a retirement wall?
My husband has about $20,000 in an employee stock exchange program. His employer matches his contributions by 25%.
If property values (home, car) are included in your net worth, how much are those worth?
I included their value, minus what I owed on them. Their total net worth are: $350,000 (house) and $45,000 (two cars)
Spending
How much do you spend on the following categories on a monthly basis?
Groceries: $600
Restaurants, bars, takeout, and delivery: $200
Clothing and accessories: $50
Transportation: $700 ($500 on car payment; $150 gas; $50 iPass)
Entertainment: $25–$100
Other major expenses: $64/month for family YMCA membership; $165/month for phone/internet/cable bill; average about $150/month for all utilities (water, electric, gas)
Health care — premiums and other costs: $25/paycheck on premiums for our family of three; due to physical therapy for me and lots of sicknesses for our toddler, we've been averaging about $150/month in health expenses this year.
What's your spending range for these things? What's your average?
Vacations – Range: $50–$5,000
Vacations – Average: $1,000
Charity – Range of donations: $10–$500
Charity – Average donation: Average $100
Individual items of clothing – Range: $5–$100
Individual items of clothing – Average: $20
Car or Other Vehicle – Range: $10,000–$25,000
Car or Other Vehicle – Last purchase/current main vehicle: $25,000
Apartment or house – Range: $600–$1,750
Apartment or house – Current main residence: $1,750
Fill in the blank on this question: I could save _____ if I stopped ______, but I don't because _______.
I could save $50 if I stopped drinking Starbucks/fancy coffee, but I don't because it's a treat I enjoy! :)
How much did your wedding cost, and how much did YOU pay?
$25,000 total. My parents paid for 50%; my in-laws paid for 25%; and my husband and I paid for 25%.
Wedding: Tell us about it!
130 guests; church wedding with reception in a large city hotel in 2013.
If you own, how much did your home (permanent residence) cost?
$300,000
How has your family provided financial support in your adult life, if any?
My parents gave me $3,000 to get started after I graduated college.
At any point in your life to date, has inheritance played a role in your money situation?
We used my grandparents' $14,000 inheritance to pay down my husband's student loan debt.
Does your family provide any non-financial support (such as regular childcare)? Please describe.
My parents watch my son two days per week. He is in daycare the other three days.

Money Strategy
Do you have a general money strategy?
Save!
Time vs. money: Do you spend money to save time (e.g., cleaning service)? Do you donate your time instead of money? What else does this phrase mean to you?
With a kiddo, I'm understanding the value of time more and more. I haven't outsourced cleaning yet, but I may at some point…
What are your favorite resources for personal finance?
Dave Ramsey
What advice would you give your younger self about personal finance?
Save everything!
Icons via Stencil.