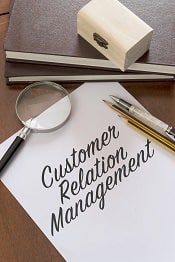 How can you track business development efforts, beyond traditional CRM (customer relationship management) software programs? We've talked about how to build a book of business, but not how to organize those attempts. Here's reader EJ's question:
I have accepted a new job that will involve less billable hours and more business development. I would like to keep track of new contacts made (even if it does not translate into business immediately) and business development generally (lunches attended/seminars/conferences) so that come my review, I can show my efforts and, hopefully, the tangible benefits. Can Corporette readers recommend any specific type of app/software to keep track of this kind of work and the results? Obviously, I will record all of my time in the usually way but I was hoping to use some sort of software/app to collect the data and the results. Any suggestions would be helpful.
Great question, and congrats to EJ on the new job! I can suggest a few things here, but I'm curious to hear what readers say…
A regular contacts app like B-Folders, Outlook, or another Android or iPhone app. I'm a huge fan of B-Folders (Android-compatible only, alas) — I like that it syncs across my desktop and phone and allows me tons of space to make notes on folks, from what their birthday is to when we last spoke.
Set up a sales funnel spreadsheet.  I've heard a lot of talk about making these from scratch but have yet to find a system that works for me — the idea is that a program as simple as Excel will help you keep track of who you spoke to, when, where you left things, and so forth. This page looks like it has some good tips.
Purchase an actual CRM, or customer relations management software. Salesforce is the name I've always heard, but there are other options for smaller businesses, including Infusionsoft, Insightly, and others.
Additionally, some of these Above the Law articles may be helpful to you on business development (in Big Law and at small firms), as well as this post on business development tips for professional services.
Readers involved with business development, how do you keep track of your efforts? In general, ladies, do you keep track of your networking efforts in an organized way?
Photo credit: Shutterstock/abdrahimmahfar.
—————
N.B. PLEASE KEEP YOUR COMMENTS ON TOPIC; threadjacks will be deleted at our sole discretion and convenience. These substantive posts are intended to be a source of community comment on a particular topic, which readers can browse through without having to sift out a lot of unrelated comments. And so, although of course I highly value all comments by my readers, I'm going ask you to please respect some boundaries on substantive posts like this one. Thank you for your understanding!