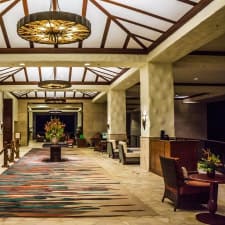 Years ago I had a meeting with a lawyer-turned-entrepreneur, and he made an interesting comment I still find myself thinking about: his preferred place for informal business meetings was hotel lobbies. (Looking back he probably got the idea from this NYT article!) There are obvious advantages to this — they're nice, public spaces; they usually have food and drink available, as well as bathrooms, free WiFi (or WiFi you may be able to get if, say, you stay one night) — and they also generally don't mind if you linger or talk. But at the time, I wondered: was that really the best place for informal business meetings for women? Could I steal that trick for myself?
Cut to a week ago, when I had a phone conversation with a consultant I'm mentoring, and we were discussing whether she needed conference space of her own — and my mind came back to the conversation about hotel lobbies. My hesitation here has always been the one a lot of you are probably thinking right now: you don't want any client to misunderstand you and think you're propositioning them.
We've talked before about where to find new clients and general business development tips — how to network in a general way so you can meet new people who eventually become clients — but not where to physically meet up with prospective clients if you want an informal meeting place — so let's discuss.