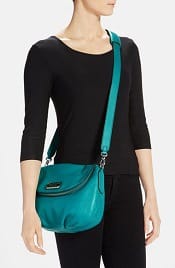 Are crossbody bags professional? Could you wear one to a business lunch, or a networking event? Reader C wonders…
Is a crossbody bag considered professional? I'm tired of carrying a ton of bags to work (briefcase, pump, lunch bag, and purse) and am trying to downsize my handbag. I'm considering purchasing the Lo & Sons Pearl bag. But would it be odd wearing a crossbody to a business lunch or networking event? Thanks!
The crossbody bag is SO HUGE right now. I think they're cute, even if I wouldn't wear one myself (busty girls, are you with me?). I would say this is a case of "you do you" and go ahead and wear it if you want to. I particularly think the crossbody is the new wristlet — perfect for grabbing something quickly to run to pick up lunch. (Pictured: another popular option, the Marc Jacobs Natasha, available at Nordstrom for $108-$398. The pictured leather bag is $365.)
BUT — there's always a but, isn't there? — I might caution you in two possible regards that might invoke negative judgement about your professionalism.
First: if it's a networking event or a business lunch, do you really need ANY bag? Most networking events that I've been to, people have ditched their bags and coats and wandered the room, pursefree. (This is one of the reason I always felt a blazer with pockets was a no-brainer for a networking event — a place for your cell phone and business cards!) I've seen a few women wandering around with their bags, and they were usually of two types: a) the kind of person who has an OMG-So-Important bag that she's super proud to show off, or b) the kind of person who refuses to trust the coatcheck / other attendees and insists on carrying the bag with her. I'd at least encourage you to gauge the room to see if other women are carrying their bags with them, or if there is a coatcheck option. If you are really nervous, you can just bring one credit card with you instead of your whole wallet, and keep your credit card in your pocket.
Secondly, and this is really just a point on how slowly fashion trends permeate a conservative workplace: older colleagues in particular may associate the crossbody bag as casual, or even touristy. This impression could be reinforced if you are frequently rooting around in it and pulling things in and out. So I guess that's my other point: know the type of person who is going to be there (e.g., is it a young professionals event?), and who you want to network with.
Ladies, what are your thoughts on crossbody bags for work and work events? Which are your favorite crossbody bags out right now? 
—————
N.B. These substantive posts are intended to be a source of community comment on a particular topic, which readers can browse through without having to sift out a lot of unrelated comments. And so, although of course we highly value all comments by our readers, we're going to ask you to please keep your comments on topic; threadjacks will be deleted at our sole discretion and convenience. Thank you for your understanding!