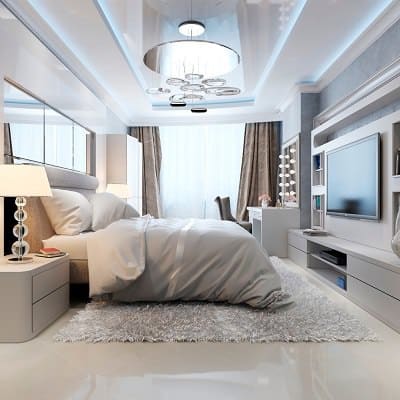 I have always been against the idea of a TV in my bedroom, but I'm starting to rethink that and thought it might make an interesting discussion here. If you're against a TV in your bedroom, what are your reasons? If you HAVE a TV in your bedroom, is it your regular binge watching haven or is it the occasional "turn on the news while getting dressed" kind of thing? If you have a partner, how did he or she play into the decision to have (or not have) a TV in your bedroom — was it something you both agreed on? A habit of one that the other adopted? A negotiation point?
Just as with making your bed daily, there are going to be people for and against it, so there are no right answers here!
Honestly, I don't even know why I was always so opposed to having a TV in the bedroom, but it predates my marriage — it was just never even a question. And yet, with the iPad, the Chromebook, my iPhone, my Kindle… I'm not exactly winning any arguments on a pristine sleep environment. I think I worried that having a TV in the bedroom would lead to lazy TV viewing in that "ah, fell asleep with the TV on again!" sort of way. To be honest, though, when we did watch TV regularly I used to do it with a glass of wine and at least one device (probably Chromebook or iPad) open in front of me while doing what I call "low energy tasks," like sorting family photos, online shopping, and finding new photos for older blog posts.
I suppose it's even weirder that I'm thinking about this now, because we watch TV far less regularly than I ever have at any point in my life. When we do watch, we tend to binge watch shows like The Crown that kind of demand your full attention — but still it feels like it might be nice to flip on the news in the morning while getting dressed, so I'm torn.
I don't know, ladies — what are your thoughts? TV in your bedroom: yea or nay? 
Stock photo via Deposit Photos / kuprin33.