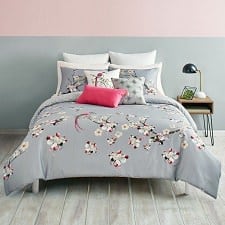 Here's a random lifestyle question – do you make your bed every day? If there was a certain point in your life when you started making your bed, what was it (e.g., marriage, kids, in-home help like a nanny, or other)? Do you make your "full bed" every day (with a mountain of pillows) or just the basics? (Related questions: how often do you change your sheets? What's the best purchase you've made for your bedroom, whether a specific mattress, a pillow, a favorite set of sheets, or something else?)

This post contains affiliate links and Corporette® may earn commissions for purchases made through links in this post. For more details see here. Thank you so much for your support!
Pictured above – highly rated and price-matched at Nordstrom.
Interestingly, there are arguments both for and against this — a Navy SEAL Commander has a very popular YouTube video on how making your bed can change the world (Business Insider; see also Esquire, NerdFitness) — but there are some science-y reasons not to do it because apparently it traps dust mites (Today Show, Huffington Post).
For my $.02: I remember loudly declaiming the stupidity of making your bed every day in my youth, and may have even written a column on it for my middle or high school newspaper. What's the point, I argued — it's just going to get unmade at the end of the day. DUH. That attitude continued through a surprising number of one-room living situations like dorm rooms and so forth, where looking back I think, EWWW, and HOW MESSY and "really, Kat, you couldn't just pull the sheets up?" The tipping point for me was law school, I think, when I had my small desk next to my bed, and I found that I really enjoyed using the extra space on the bed for organization whenever I was working at home — I found that it was a much better work surface if the bed was made. Once I got in the habit, I've continued it through the years and now 99% of mornings, as soon as I get out of bed I pull the sheets up and then head to the bathroom. But I will admit: I don't do the "mountain of pillows," although it's such a pretty, relaxing look when our cleaning professionals do it when they change the sheets.
Best purchases we've made for the bed: linen sheets (we have Eileen Fisher, although I've heard great things about the Restoration Hardware or Brooklinen pairs) in summer, heavy weight flannel (6 oz is best!) for winter (Lands' End, Eddie Bauer, Garnet Hill). I have a side-sleeping pillow I like, and my husband seems to like the cool-temperature sleeping pillow I got him on Amazon. Weirdest sheeting set we tried (which has since been given away to Goodwill so I'm going on memory here): a weird pair of solid beige sheets that I think were CoolMax ones from Bed Bath & Beyond that my husband and I have since started calling "granny panty sheets" because they were kind of silky and stretchy and beige and, well, like granny panties. (We really, really, really hated them, both because we would get tangled in them at night as well as because they were weird and silky.)
Over to you, readers — do you make your bed every day? When did you start? What's been your best purchase for your bed? 
Psst: you may want to check out our previous discussions on the best sheets, as well as our discussion on pajamas for grown-ups (reader comments on that one were really fascinating!). Ah yes, and we've also talked about the different kinds of insomnia professional women may suffer from.