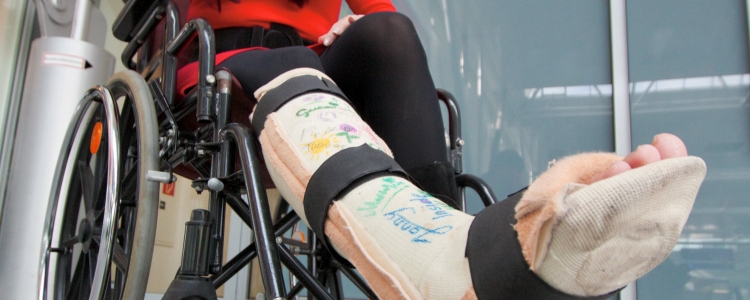 Reader E has a question that should take us into an interesting discussion of how low the bar can go in terms of professional dressing if circumstances require it…
I broke my leg — in 11 places– over the weekend. I have been on bed rest for almost a week, and probably have another week of it. When I return to work, I will have a hard cast for 8-10 weeks. It goes from toe to knee, and is thicker than average because of all the metal inside from the severity of the fracture.

None of my pants will fit over the cast, and because it is so thick and heavy, it is really affecting my balance, so I have to be careful to not have anything that will hang in my crutches. I also have to sit at my desk with my leg elevated on a chair once I go to work. That eliminates many of my skirt suits, since the skirts are straight.

I am going to have to break some rules but want to know your thoughts on what is reasonable. I have a number of wrap style dresses, and figure I will wear them with a cardi. I have nude, gold and black patent ballet flats that are good quality and supportive, so those will be my shoe options.

I looked at Old Navy online and picked up some yoga pants and a knit a-line skirt. The pants are cropped and will stretch over the cast. As long as they don't fade, can I wear them to work with a nice T and a drapey cardigan? What about the knit skirt? It is at the knee, and is soft enough to not worry about showing my business with my leg up, but not so soft that it is overly revealing. I am thinking it with the same– nice T and cardi.
Yeooouch. Feel better, Reader E! I just talked to a reporter about how yoga pants are not appropriate for the office, but there are some caveats to that — when I polled the Corporette Facebook page people thought they were fine if you're in the final stages of pregnancy and can't find anything else to fit. I think your question is kind of along those lines, but even more poignant because what, exactly, are you going to do? It isn't a matter of cost — they simply don't make many outfits intended for a half-leg cast.
Pants are problematic because of the cast, and skirts are problematic because of the "elevated leg." Honestly, my gut reaction would be to pick up 1-2 pairs of cheap pants (that you know will fit at the waist and hips) and cut one leg off at the knee to accommodate the cast. Any tailor should be able to finish the hem for you for $10; if you have some time on bedrest you can do it yourself.
For the dresses, I would suggest wearing shorts underneath them like reader favorite Jockey slipshorts — they may look tight but they're stretchy enough to get over your cast.
I would avoid cropped yoga pants at the office, but that's me — it depends on your office culture, and whether your personal bank of credibility is great enough that you can deviate heavily from office culture.
For my $.02, though, I would suggest you wear blazers whenever possible instead of cardigans. It shows that you still mean business, and it also keeps your outfits at a certain level. For example, yoga capris and blazer = comical. Wrap dress and blazer = great for the office. While usually blazers from suits look best with their matching bottoms, here you may want to experiment — particularly if the jacket is a solid color it may be a great addition to the outfits.
Readers, what are your tips for dressing with a cast? Particularly for those of you who've done it yourself, or worked with someone who had to wear a cast, chime in!!
Update: Do note that the readers have come up with much better suggestions than either a cut-off leg or yoga pants — check them out in the comments! My favorite suggestion: buy long pants and slit them up the calf. Perfect!
2021 updated images via Deposit Photos / ginasanders. Originally pictured:  IMG_0866, originally uploaded to Flickr by soccerkrys.)
We are a participant in the Amazon Services LLC Associates Program, an affiliate advertising program designed to provide a means for us to earn fees by linking to Amazon.com and affiliated sites.