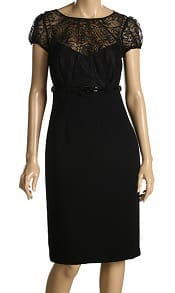 Today's reader e-mail comes with smoke signals…
I was just invited to a black-tie dinner at the Waldorf for a benefit my firm supports. Although I have lots of dresses, I'm not sure what is appropriate for a black tie business function. Is a knee length dress ever appropriate at a black tie function?
This is one of those reasons why we always snap up black cocktail dresses, both long and short, when we see them on sale. Our advice actually involves a bit of legwork on your part.
Call the Waldorf. Ask what they recommend ladies wear to the event. (You can do this anonymously.)
E-mail a female coworker who's attending the event (or two) and ask them what they're wearing. If you like what the Waldorf's advice was, include this in your e-mail. (If not, keep it to yourself.)
If the Waldorf's answer is "long" and your colleagues' answers are "long," guess what — you should really wear a long dress. If the answers are somewhat different, then you might want to choose a dress closer to what your colleagues are wearing.  For example: Let's say the Waldorf answers, "Cocktail attire is fine." But your colleagues answer, "Long dresses!" You might want to choose a very very simple black dress that's long. (For what it's worth, this author has been to galas at the Waldorf on at least one occasion — most of the women at the table were wearing short cocktail dresses, including me. To be honest, we saw women in sparkly evening suits and business suits. But that may have just been that particular event.)
As for where to get the dress… ask your friends if you can borrow anything if you don't already have one.  Otherwise, you might want to hit a Filene's or TJ Maxx to see what they have.  If you have time for Internet shopping, we recommend the Calvin Klein dress above, available at Zappos (free overnight shipping!) for a reasonable $134.
You might also want to check out our post (and the comments) on the DC gala scene, and Tim Gunn's recent suggestions in Marie Claire.  Readers, what are your thoughts? What are galas like in your region, and what are your rules of thumb?
Shop more evening dresses, below: