On the off chance anyone's company is still having their black-tie affair this year, we thought we'd give some advice on what to wear, and what not to wear. (Although the best advice we can give you is: ask a colleague who's already been to the party at least once, or look for pictures from previous years.)
1. First of all, ways to tell dressy formal attire is required: generally, your invitation will tell you what to wear. Secondary clues that dressy attire is necessary:
the event is held on a Saturday, not a Friday
significant others are invited
the event is held in a swank place that is not necessarily well-located near the office
your company holds two parties: one for staffers (held on a Friday night near or at the office) and one is held for the executives/lawyers (the dress code will be very different for the two events) (check out this advice on what to wear to a more low-key holiday office party)
2. Our first piece of advice: Even if it's not black-tie, buy a black dress or another muted color — although color is acceptable to wear at some events, this can vary greatly from event to event. (Nordstrom has some amazing sales on plain long gowns — and Rent the Runway is always a great option.)
(Want $30 off your first Rent the Runway order? Here's our referral code.)
Some of Our Latest Favorite Evening Gowns for Black-Tie Work Events
Hunting for generally affordable evening gowns for black-tie work events? Some of our favorite brands include Lulus, Dress the Population, Eliza J, XScape, and Alex Evenings.
Hunting for plus-size gowns for black-tie work events? For affordable options we like like Kiyonna, City Chic, Reformation, Anthropologie, and eShakti — also check out bridesmaid brands like BHLDN and Birdy Grey. If you're open to spending more, check out Marina Rinaldi and Lafayette 148 New York (limited options).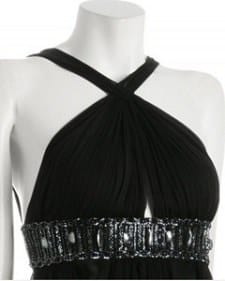 General Tips on What NOT to Wear to Black-Tie Affairs
3. When shopping for your dress, think "classic beauty," NOT sexy. To this end, avoid skin in unexpected places (see above — the keyhole above the empire waist is trouble). No side-boob, no under-boob, and no dresses with the low-low back (um, below).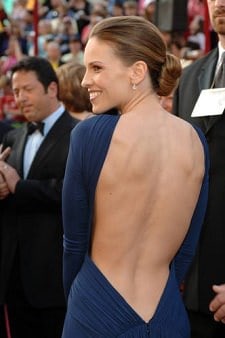 4. Strapless can be acceptable so long as your dress is well-anchored — no chance of things heading south.
5. Cleavage can also be acceptable — a very little amount of cleavage — if it's controlled. (If you're on the busty side (same here, sister!), check out our style tips for busty women.
6. No trains or fishtail hems (see below). Seriously, you're going to be mingling, trying to balance your drink, and trying to indulge in the occasional bite of sushi or pig in a blanket. You don't want people stepping on your dress in the midst of all that…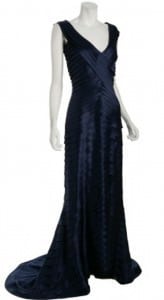 7. In fact, a cocktail-length dress (above the knee) can be acceptable if the dress is fancy enough. You can always accessorize with a crystal or diamond brooch, sparkly shoes, a sparkly wrap, etc. If you're unsure of how fancy the event is, you may want to go with either a fancy cocktail dress or a plain floor-length black dress.
Hunting for great cocktail dresses for work functions? Some of the best brands to check include Dress the Population, CeCe, Maggy London, Eliza J, and Calvin Klein. Some of the reader favorites from Amazon might also work! Some other recent favorites include these:

8. Don't wear anything too outré. Even if you really know your fashion stuff, anything cutting edge can just make you look like a hack. (Remember Patsy and Edina, after all.)
9. Splurge on accessories or shoes. A sequined or beaded wrap, some jeweled shoes, or a quality clutch like these will all serve you well throughout your life. The fancier your dress is the fancier your bag should be, the minaudiere and box clutch are classic pieces. If diamond earrings aren't in your future, check out this brand for highly rated cubic zirconia pieces. Also, these glitter stud earrings are always a hit.
10. If time and money allow, get your hair done, but definitely get a manicure. We always find that if you're shaking hands and talking with people while holding a glass, focus tends to be on your hands and how well manicured they are. If you're not a polish sort of girl, just get clear or pale polish. If you are a polish sort of girl, we recommend keeping it tasteful and avoiding sparkles and trendy shades. Still, it's a party — choose a color that compliments your outfit.
Psst: if you know you're going to need a reprieve from your heels at some point in the night, these are some of our favorite foldable flats…

Original Photo credit at (martini, no longer pictured) : the perfect martini, originally uploaded to Flickr by berbercarpet. Updated social media images: Deposit Photos / Deklofenak.