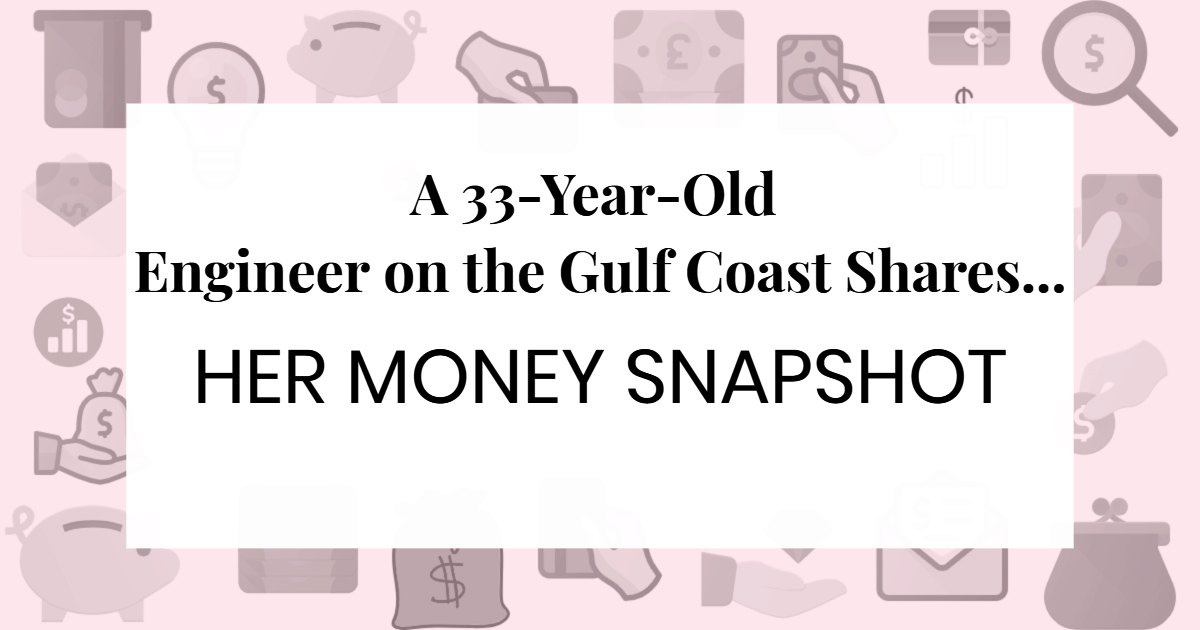 For today's Money Snapshot, we're talking salary, net worth, and more with an engineer who lives on the Gulf Coast! She notes: "I just got a new job with a substantial salary increase, so I am being more aggressive in paying down my student loans and hope to have them paid off in three years."
By way of background: We got a few requests from readers to launch our own "money diary" series, so we've asked willing readers to fill out a form with lots of details about debt, spending, saving and more! If you'd like to fill out the form and be considered for a future personal money snapshot, please click here to submit your response! You can see a PDF of the questions if you want to review them ahead of time. See others in the Personal Money Snapshot series here.
Please remember that this is is a real person who has feelings and isn't gaining anything from this, unlike your usual friendly (soul-deadened, thick-skinned, cold-hearted, money-grubbing) blogger — so please be kind with any comments. Thank you! — Kat
Name: A
Location: Gulf Coast, LCOL
Age: 33
Occupation: Engineer
Income: $110,000
Net worth: $100,000
Net worth when started working: -$54,000
Living situation: Own home — mortgage is $850/month
Debt
What does your debt picture look like?
A mortgage (about $110,000 remaining) and student loans ($40,000 remaining). I pay off credit cards in full each month.
How much money are you spending each month to pay down debt?
$1,200
How did you pay for school?
Undergrad — completely funded by scholarships. Professional degree — loans. (I no longer use the professional degree.)
Home debt: Share your theories and strategies with us.
I own in one of the cheapest housing markets in the country. My house is 1920s-era, in a transitioning neighborhood, and was less than half of what I qualified for. I have a 30-year mortgage but I pay a little extra each month, and after I pay off my student loans I intend to put that amount towards my mortgage. I may relocate for work at some point and would want to keep this house and rent it out.
Savings, Investments & Retirement
How much do you save for retirement?
10% of my income goes straight to my 401K (and my new employer kicks in 8%).
How much money do you allocate to other tax-savvy investments/accounts?
I put $1,000/year in my HSA.
How much do you save outside of retirement accounts?
I put $200 per biweekly paycheck into a savings account, which I really need to move to a higher interest vehicle. This number will hopefully shift up as I figure out how my budget shakes out with the new job.
What is your investment situation like?
I have not done a great job of educating myself on this kind of stuff — have just been kind of coasting along intending to figure it out at some point. I have four different retirement accounts from all my various employers and they are mostly target retirement funds.
Do you have an end goal for saving or are you just saving for a rainy day?
My pipe dream is to retire early and start a wine-focused travel business with my sommelier cousin.
What's the #1 thing you're doing to save money, limit spending, or live frugally?
I am terrible at all of these things. But I do try to have a "no-shopping month" a couple times a year when I feel like my spending has been too much or too thoughtless.
When did you start saving seriously? How has your savings strategy changed over the years?
I wouldn't say I qualify as "saving seriously." I have increased how much I put into retirement accounts as my earnings have grown, and I try not to spend every paycheck, but I am certainly not doing everything I could be doing.
How much do you have in cash that's available today?
$25,000
How much do you have in cash that's available in a week?
$25,000
How much is in your "emergency fund," and where do you keep it?
It's basically my savings account (included in previous question) and in a true emergency I could pull from an IRA ($16,000).
How much do you have in retirement savings?
$82,000
How much $ do you have in long-term investments and savings (CDs, index funds, stocks) that are not behind a retirement wall?
$16,000
If property values (home, car) are included in your net worth, how much are those worth?
Home, $131,000; car, $6,000
Spending
How much do you spend on the following categories on a monthly basis?
Groceries: $300
Restaurants, bars, takeout, and delivery: $1,000
Clothing and accessories: $200
Transportation: $300
Rent/living expenses: $900
Entertainment: $100
Health care — premiums and other costs: Honestly can't remember how much my premiums are. Outside of that, most years my medical expenses are very low (less than $500).

Other major expenses: Phone bill, charitable giving
What's your spending range for these things? What's your average?
Vacations – Range: From as little as the cost of gas to get to a family vacation house and the cost of groceries, to as much as $6,000 for a 12-day trip to Europe. I take a lot of weekend or long weekend trips plus try to take one big international trip every year or two, so probably as much as $10K in a year.
Charity – Range of Donations: About $4,000 a year

Individual items of clothing – Range: $20–$300
Individual items of clothing – Average: I tend to buy cheap clothes (Old Navy, Target, etc.) because my weight fluctuates but will spend more on things like shoes and bags. $20 for a basic shirt, $50–80 for a quality piece from my Stitch Fix box, up to $300 for a good pair of shoes or handbag.

Apartment or house – Current main residence: $850/month. My house cost $125,000 and I almost feel guilty even writing that to a New Yorker.
Car or other vehicle – Last purchase / current main vehicle: Paid off, but it was right at $20,000 and I would buy the same vehicle again.
Other large personal expenses:
Maintenance on my 1920s house. So far I put about $4,000 into it per year on noncosmetic things — replacing all HVAC ducting, for example.
Have any large medical expenses for yourself or others played a role in your financial picture?
Twice in the past six years I have had major injuries requiring surgery (and for one of them, a hospital stay and seven months of physical therapy). The first one probably cost me close to $10,000 out of pocket, and even with some ($3,000ish) help from my parents, I lived paycheck to paycheck that entire year. I do not take my good health for granted.

Fill in the blank on this question: I could save _____ if I stopped ______, but I don't because _______.
I could save $400/month if I quit going out to eat/to bars with my friends all the time, but I don't because it's fun and I love trying new food!
At any point in your life to date, has inheritance played a role in your money situation?
I inherited $25,000 from my grandfather (as did my sibling and cousins), and we agreed to use a big chunk of it to go on a European vacation together. The rest of it sits in my savings account as an emergency fund.

How has your family provided financial support in your adult life?
My dad paid off the last $3,000 on my car loan about six years ago, and he also contributed to my medical expenses (see above).
Money Strategy
Do you have a general money strategy?
Literally my entire strategy is to not have children.
Do you spend money to save time (e.g., cleaning service)? Do you donate your time instead of money?
I absolutely spend money to save time. I have a 90-minute daily commute, so I outsource cleaning and lawn care (both of which are very inexpensive in my area). I donate money instead of time — I am definitely at the point in life where time is the scarcer resource.

What advice would you give your younger self about personal finance?
DON'T GO TO GRAD SCHOOL.
Photo credit: icons via Stencil.