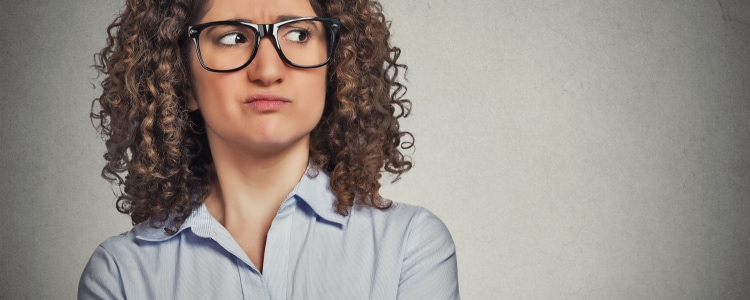 There was a great WTF thread on Twitter recently about how a 64-year-old actor posted an all-caps rant on Facebook, angry that his "preferred" waitress at the local diner had STOPPED wearing false eyelashes and he wasn't going to stand for that. Dlisted summarized the whole story, and it's a doozy — but it got me thinking about a subject we haven't talked about in a long while: when other people feel entitled to your time, or energy, or even a standard of beauty (SMILE, HONEY!) that has absolutely no basis in actual obligations for your job or more.
In the past, we've talked about the professional implications of a naturally frowny face (the title inspired by a hilarious SNL skit with Kristin Wiig) and what to do when your boss tells you to smile (other than dropkicking him).
I feel like this happened a few times this past summer when I was wearing a mask indoors when it was optional — on my way to a bathroom with an agitated 7-year-old, an older man actually stopped me to tell me that, you know, masks aren't required anymore. THANKS, DUDE. I tried to smile through the mask and say, "Yeah, well, my son isn't vaccinated," and hustled him to the bathroom, but I've thought over that interaction again and again, in annoyance, and realized that was the 2021 version of "You should smile more, honey!".
But this goes way beyond smiling — coworkers asking you to "pick your brain" or "bouncing ideas off you" and then not being respectful of your time… bosses who feel entitled to a response to emails when it's not urgent and after hours… or even in the parenting sphere where other people look down on you if you're not contributing 4,000 hours to cutting and gluing some project.
So let's discuss — do you feel like the people around you (in your office or neighborhood or community) have entitled ideas about what you "owe" them that are not correct? Do you feel like strangers feel entitled to your time and energy in ways that are grating?
Stock photo via Deposit Photos / SIphotography (young professional woman annoyed)