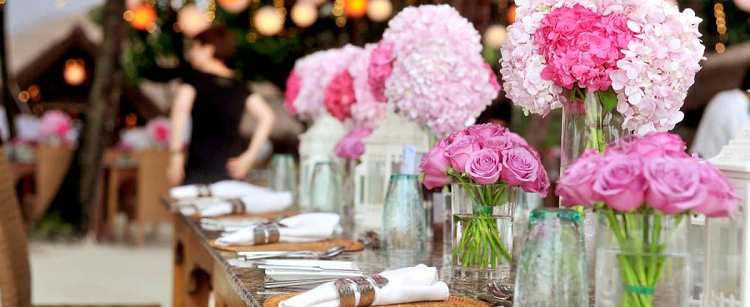 Today's reader mail has to do with whether she should invite colleagues to her wedding…
Long story short, I just got engaged to another attorney at my mid-sized firm. We are both junior associates and we met as summer associates in 2007. Obviously, there are associates that we socialize with that we'd like to invite to the wedding. However, we're not quite sure about whether to invite partners. Since we're both quite new at the firm, we do work for lots of different attorneys. I'd hate to offend someone by not inviting him…especially in this economy!
Congratulations! The answer to this question depends on a lot of factors, the big ones being:
a) do you think you could make partner at this firm?
b) can you afford to invite a lot of work colleagues to your wedding?
c) how do you feel about mixing your wedding (and your grandparents and your college friends) (and any princess fantasies you'll be indulging that day) with your work colleagues?
Your future with the firm is the first consideration, we think. Even if you're fairly junior at the firm, you and your fiance should have an idea of whether you could make partner if you wanted to, versus just hanging out until a better job opportunity comes along.
If either of you are going to try to make partner, you should look at your wedding as an opportunity to create important relationships — to show the powers that be at the firm that you consider them to be part of the family.
If neither of you is gunning for partner, however, we'd say to evaluate your relationships with the partners. Are they mentors to you? Are they like family anyway? And then we'd proceed on to question two…
Weddings are expensive, yo. On a price per plate basis, on a "size of venue" basis, on a "cost of invitations" basis, and so forth. If you invite 10 people from your office, with their dates that's 20 people — this will translate into significant money for you as you plan your wedding. (And really, you have to invite at least enough work colleagues to seat them all at the same table or two.) Even if you give them the invite and hope that your partners don't attend the wedding, you'll still have to order more invitations and plan for a bigger venue.
How do you feel about your "worlds" colliding? (We seem to recall a Seinfeld storyline here, but are too lazy to look it up…) There are a lot of different things to consider with a wedding.
First, there's the emotion of the day — some brides come down the aisle sobbing from joy, for example. If you think you'll be extraordinarily emotional, you may not want to invite work colleagues.
Next, you should consider the kind of wedding you're having — is it the one that you've been dreaming about since you were 6? This is your wedding, so we fully encourage you to express yourself and make your dream come true — but you might also want to consider whether certain elements might make you seem more like a little girl in the eyes of the partners. (Big white gowns… an all-pink theme… etc.)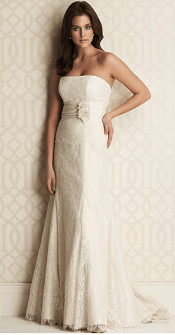 (Even this author's wedding dress, pictured, was not something we would have worn if we were inviting a lot of work colleagues — too romantic, too lacy, too much skin showing — but damn we loved that dress.)
Update: Unfortunately, the pictured dress from Mikaella Bridal is no longer available. Check out this reader-favorite stores for wedding dresses (and MOB and guest dresses): Bhldn! 
This post contains affiliate links and Corporette® may earn commissions for purchases made through links in this post. For more details see here. Thank you so much for your support!
Like we said, this is your wedding, so do what you want — but don't invite a work colleague to a wedding like that just so they feel included. Finally, you've already got a lot of different worlds colliding. It's already going to be fun trying to keep your dotty grandmother who says racist things away from your well-educated friends.
Throw in a frat brother friend or two shouting "Keep it in your pants!" to your husband during the first dance, and you'll end up wishing you hadn't invited work colleagues you don't know very well, particularly ones with whom you're already struggling for respect.
Finally, ask yourself — what is the ratio of women to men who I work with? If you work with a lot of women partners, we might lean towards inviting work colleagues in general, as the women will be more touched to see you be married — and upset if they're not invited. (We strongly doubt the male partners are going to feel snubbed if they're not invited, unless everyone is invited except for them.)
If you ultimately decide not to invite work colleagues, act accordingly: keep your wedding talk to a minimum in the office. (Obviously, don't invite coworkers who aren't otherwise invited to your engagement party or shower.)
If you're asked about your wedding, be sure to casually stress what a small wedding you're having, or how the majority of the guest list is family, or something else that gives the person — if they care — a rationalization for why they were not invited. (And remember, for most people, they don't care if they come to your wedding — they're probably happier to not come. If any non-family member on your potential guest list might view attending your wedding as an unpleasant obligation, reconsider your guest list.)
These are all just are $.02, though — readers, what are your thoughts?
Updated images via Stencil.