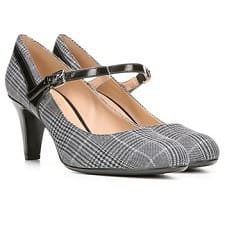 Naturalizer has had the Orianne pump around for a while now, and it's normally a pretty great deal at $99 or so — but right now on the Naturalizer website, this fun houndstooth version is down to $28. Lovely! (Amazon also has a few sizes and colors as low as $35; if you want to read a bunch of good reviews, do check out the Zappos page.) Naturalizer Orianne Pump
2016 Update: These pumps are now in our Workwear Hall of Fame — they've been around for years and are always highly rated.
On the hunt for comfortable heels? Check out our recently updated guide!