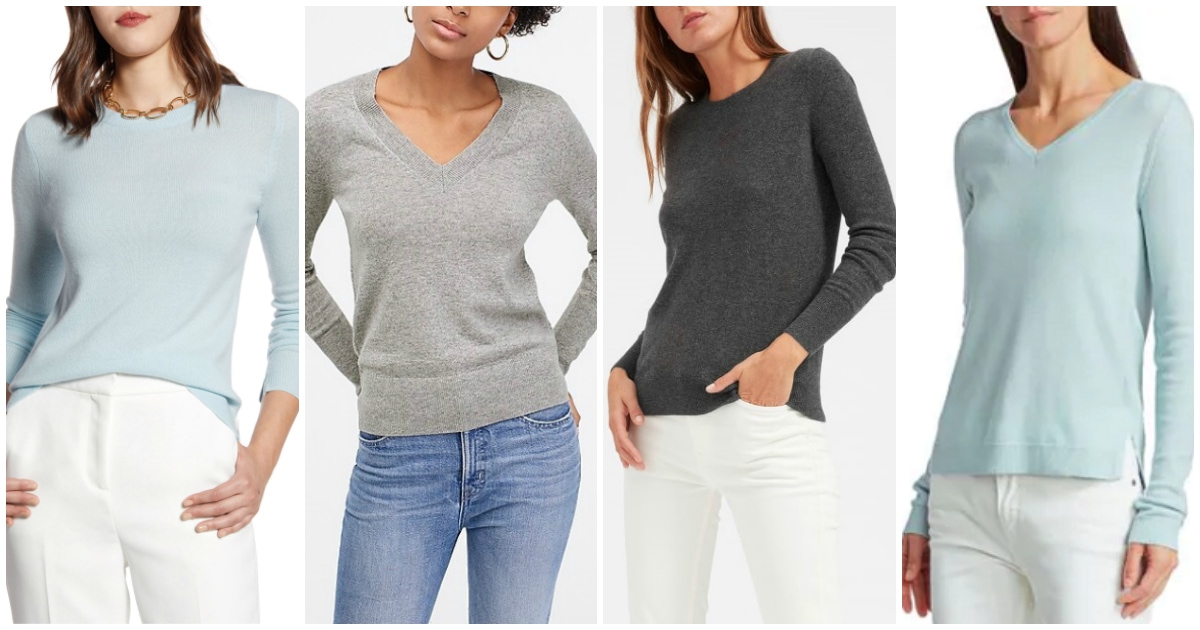 pictured above, some of the classic cashmere sweaters for work (as of 2020): blue / gray V-neck / gray crew neck / blue
Sure, we all know what basics professional women are supposed to have in their closets, but if you're buying one for the first time or replacing one you've worn into the ground, it can be a pain to find exactly the right incarnation in stores. In "The Hunt," we search the stores for a basic item that every woman should have.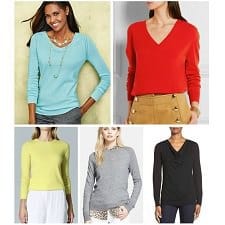 Ladies, we haven't talked about the most stylish cashmere sweaters for work in far too long — and now is a great time to buy because there are so many sales on. Which brands are you loving this year in terms of style, softness, durability, and more? (Do check out our guide to cardigans for work, if you haven't already!) Have you gotten any great deals on any cashmere lately? Which cashmere brand do you like to splurge on?
If you're curious, here are links to our prior roundups of the best cashmere sweaters for the office: 2015, 2014, 2012.
Before we get to our featured cashmere sweaters for work for today, here are some of the greatest hits from our Workwear Hall of Fame – cashmere sweaters that have been around for years and are loved by all!
Readers always swear by their Audrey crewnecks from Talbots — all cashmere at Talbots is on deep discount today, so if you're on the hunt for a V-neck I'd give this pretty one a try. It was $150, but is now marked to $49.99; still available in regular, petite, plus and plus-size petites in rose, pink, orange and white. Also in this price range: reader favorites Lord & Taylor and Lands' End cashmere sweaters are both steeply discounted today; I'd also give this Halogen sweater a try. Pictured: Cashmere V-Neck Sweater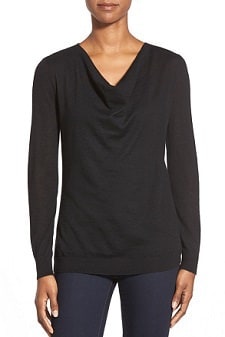 Oooh: I love the draped neck on this thin cashmere from Classiques Entier. It's still full price in the red, but both the black and ivory versions are 55% off — they were $198, but are now marked to $85. Classiques Entier® Drape Neck Cashmere Sweater
I like this simple, close-fitting cashmere crewneck from Boden, and it has 32 very positive reviews on the brand's site. And it's machine washable! It's available in 8 colors, sizes 2-18, for $148. Cashmere Crew Neck Sweater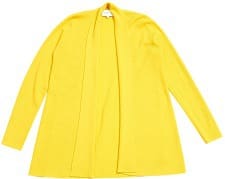 Readers always sing the praises of higher end cashmere from Eric Bompard, Brora, and Akris — and many have had great luck shopping on eBay or other consignment sites like Vestiaire and The Real Real. (Of course, proceed at your own risk — educate yourself first on what a sweater of that quality looks like and feels like.) This brightly colored Eric Bompard sweater at Vestiaire is bright and happy, and looks like it's in pretty good shape — it's $280 at Vestiaire. Eric Bompard Vest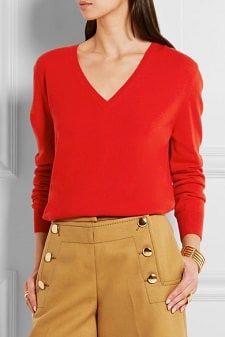 I love the drape of this sweater from Bottega Veneta, and I always think a V-neck is one of the most flattering shapes. It's $1,110 at Net-a-Porter. Bottega Veneta Cashmere sweater
Like this feature? Check out other recent installments!