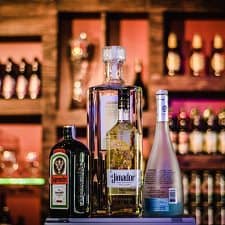 2018 Update: We still think this was an interesting discussion on what to drink at an office cocktail party — but you may also want to check out our latest (less judgy) discussion on what everyone is drinking in 2018. 
The question repeats itself often throughout the summer months: What'll you have? What can I get you? The subject, of course, is alcohol. Whether you're there for the summer or for the long haul, you still want to make a good impression at parties. If you've ever wondered what to drink at an office cocktail party, we've got you covered — behold, The Corporette Guide to Drinking.
Our 2-second tip: The best kind of drink is the one that is sipped infrequently. In other words, try not to get drunk until the after party.
Wine. This is always a safe choice. It may reflect a lack of imagination/decisiveness on your part, however.
Wine Spritzer. This says, "Dieter," loud and clear. It can be helpful if you're determined to make it to the after-after party, however, because you're drinking a weak drink that's already diluted.
Beer. Again, always a safe choice, although it may reflect a certain desire to "hang with the boys." We don't suggest getting this unless you're actually at a bar and can choose bottle or draft.
Champagne. Party time! Excellent! There is a time and a place for champagne — black tie events, specific celebrations — but in general, champagne can get you drunk far too quickly and leaves the nastiest of hangovers. Also, at mass-catered affairs you're unlikely to get good champagne, so why bother?
Colored drinks. Most colored drinks are, unfortunately, girly drinks. It also shows that you're a bit high-maintenance (appletini? really?), especially if the party is at someone's home or at a bar with limited options. Avoid at all costs. The one exception is the screwdriver: The vitamin C in orange juice is great for energy. If there is a special drink being offered for the party, however, trying it shows that you're game and open to new suggestions.
Drinks mixed with tonic or club soda. These are great options, provided you're talking more than drinking. The glasses (generally a lowball or highball glass) are safe, and communicate from afar that you're not afraid to drink with the group, and that you've got a touch of class. Gin and tonic is a great summer drink, as well. If you're on a diet go for vodka soda with a twist — tastes great and soda lacks the calories that tonic has.
Martini. Go classic here, or not at all. Vodka or gin, with an olive or a twist (or possibly an onion). Nothing colored pink, nothing flavored. Sip — do NOT drink. Only get it served "up" if you don't tend to make a lot of gestures when speaking.
Whiskey/Bourbon. Like the martini, a classic drink, and like the gin & tonic, it generally comes in a safe glass. Only drink it if you're familiar with it, though, and can drink it without wincing. This also tends to have a "drinking with the boys" feeling, but it says you're up for drinking with the executives/partners, not for drinking with the guys on the baseball team.
Rum and Coke. Maybe this is a regional thing, but we say: drinking it is one thing — it's a dark drink and no one can really tell what you're drinking. But being overheard ordering it could be embarrassing. After all, isn't that the choice of most 19-year-olds?
Shots. Unacceptable unless the person in charge starts it. Otherwise, save 'em for the afterparty.
Diet Coke. This drink says that you're a party pooper and/or a dieter and/or a bad drunk. (Party foul, anyone?) Still, being suspected of being party foul is better than actually being party foul, so do what you need to do.
Current image via Stencil. Original image (2008) via Flickr: photo by DOS82.