Someone was telling us recently that they didn't wear button-down shirts, didn't even know how to wear 'em. So, here ya go…ten things to know about wearing button-down shirts!

1. If you're going for the crisp cotton look, go for non-iron. Brooks Brothers makes a great fitted non-iron shirt. Thomas Pink (very high end, typically thought of as a man's store) makes amazing button-down shirts for women, also, with interesting prints and a lovely fit.
2. Collars and jackets: Collars should stay on the inside of the jacket, not splayed open on the outside.
3. If you have a white shirt, try not to put it in the dryer in order to avoid yellowing. Actually, in our experience the iron-free shirts look best when hung dry. (Just pull them taut, a bit, when they're wet and you're hanging on the hanger — it always seems to help the fabric figure out where to go.)
4. If you've got a French cuff shirt, do not bother with those tiny knots you can buy at places for $10 — you're wasting your money and time, because they take forever to put in. Instead, make an investment in a good pair of cufflinks — Nordstrom also has some beautiful ones right now.
5. Tucking: If you're wearing a fitted, button-down shirt (such as the ones from Pink) you can experiment with how it looks untucked. The key is that it can't be too long — it should hit mid-hip, and no matter what should not be longer than your suit jacket. Silky shirts should always be tucked.
6. If you want a very clean tucked-in look, there are some stores that make leotard-like button-down shirts. See, for example, Victoria's Secret or Donna Karan.
7. Non-traditional style idea: Wear a short-sleeved button-down shirt beneath a vest or even a t-shirt. (We've given up trying to wear anything but silky button-downs beneath full-sleeve sweaters — the static cling gets us every time.)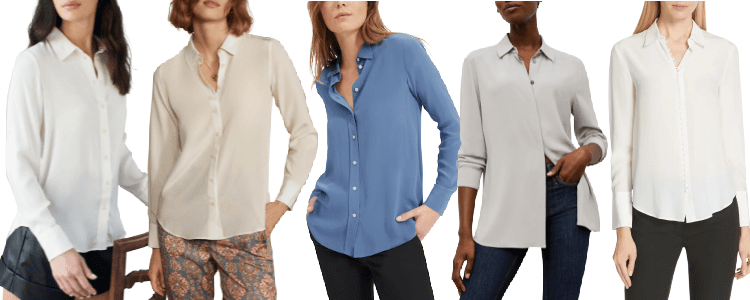 8. Non-traditional style idea, Part 2: Wear a camisole/tank top underneath the button-down shirt, tuck in the shirt, and only button it up halfway, so people can see the camisole beneath.
9. Gaping: If your shirt is gaping, this could mean a few things. A) You need a larger size, and should take it to a tailor to get it to fit you the way you want it to. B) You need to wear a camisole beneath it, so when you turn to the side people don't get a view of your bra. C) You can experiment with Hollywood Tape and so forth to keep it from gaping — we've found the camisole is just easier.
Some of the top products to help you fix a gaping blouse include:

Above, some solutions for gaping blouses: 1) Topstick toupee tape 2) double-stick medical tape 3) Flash Tape 4) Fearless Tape 5) black & white and colorful safety pins — see more clever solutions for workwear problems in our Amazon shop!
10. Beneath the slightly sheer white shirt: Wear a bra that matches your skin tone, and a white camisole, no matter how convinced you are that no one can see through it. We've tried the nude camisole, and trust us: white just looks better.