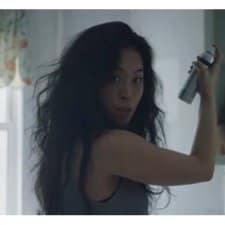 Ladies, what is your favorite dry shampoo? What's the top quality you look for — and what turns you off about other dry shampoos?
As I've mentioned before, my favorite dry shampoo (after trying a few) has remained Psssst!, the super cheap, super old-school-looking dry shampoo.
Here's how I apply it before bedtime: I pick up the top two inches of my hair (like where bangs would be if I had them) and spray the dry shampoo at the sections from the front and the back). Even though I have dark brown hair and the spray is stark white, it all absorbs overnight. After that, my hair is kind of a non-issue.
It doesn't smell like anything; it doesn't look oily; it doesn't feel overly textured or cornstarchy — it just is. That's kind of what I'm looking for in a dry shampoo, to be honest — to be able to spray it on and forget about it. (I wish there were a name for this, but I'd say the "ability to forget about it after I've made the decision to wear it" is increasingly something I'm looking for in beauty and fashion.)
I've been so happy with Psssst! that I haven't really launched a full-scale investigation into dry shampoos. I have tried other brands, but mostly because I received them as blogger party gifts or for review, or a friend had one that she let me try. The smell is the main thing that puts me off other dry shampoos — especially because I put it on before bedtime and I can't stand to sleep with anything sweet or cloying.
(It probably doesn't help that my preferences tend to be more aligned with men's fragrances!) Once I got a slew of products from a celebrity hairstylist's line, including a dry shampoo, and happily sprayed some dry shampoo on my hair… and had to check the bottle because it felt like a web of Aquanet or some other old school hairspray had hit my head. (So much for my fresh(ish) blowout.) Nope, I hadn't accidentally picked up hairspray or texturizing spray — that was what her dry shampoo did. Yuck.
So for me I'd rank "not wanting to run to the shower and scrub my hair clean" as a pretty high requirement in dry shampoo.
Ladies, over to you — what is your favorite dry shampoo? How often do you use it? Did you notice that it became part of your life more regularly after you had kids, reached a certain age, or had a certain hairstyle or maintenance routine?
Pictured: YouTube (hil-ARIOus commercial for a yogurt drink re: working women and mornings, if you haven't seen it) .