2017 Update: We still like a lot of these flat dressy boots, but you may also want to check out our most recent round-up of the best knee-high boots for commuting, work, and beyond, as well as our most recent discussion on what boots to wear with tights to work (which includes some flat dressy boots both high and low).
Sure, we all know what basics professional women are supposed to have in their closets, but if you're buying one for the first time or replacing one you've worn into the ground, it can be a pain to find exactly the right incarnation in stores. In "The Hunt," we search the stores for a basic item that every woman should have.
Flat dressy boots are one of those know-your-office situations — just a few years ago they were fairly scandalous, but now they're everywhere.  We haven't done a roundup in a year (here's our 2013 and 2012 roundups), so I thought I'd poke around… these are my favorites.  First, a few specialty categories that may be of interest — note that if you're really on the hunt for a custom style, check out  Duo boots — you have the ability to tailor your fit, but they already have a large sale section that is up to 30% off today.
Ladies — have you bought any great flat boots for work lately? What are the top qualities you look for in an office-appropriate boot?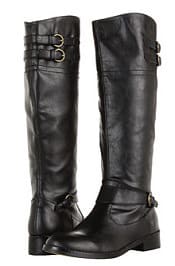 I've had a pair of Volatile shoes, and they were comfortable enough that I'm going to start today's roundup with these $32 flat knee-high option, which comes in three colors and a lot of sizes.  It's a faux leather upper and man-made lining, so note that these won't be as warm as leather/natural linings (and likely won't hold up as well), but if you're looking for a bargain, I'd start here. They were $69, but are now marked to $32. VOLATILE Wicker
Anne Klein's iFlex line is one of my favorite budget comfort shoe lines, so it's a mystery to me why you can only see that it's an iFlex shoe if you look at the picture of the bottom of the sole. In any event: these come in five color options, have nice traction on the outsole, and simple buckle accents at the ankle. They're available in sizes 5-11 for $169. Anne Klein Coldfeet
These Dorian stretch boots come in three colors.  I particularly like that they're leather on the front, but stretchy on the back — perfect if you're like me and your calves are too big for most regular sizes, but too small for most "wide calf" sizes. (Note that the Cole Haan Jodhpur Boot has similar elements, but is marked down as low as $139 over at 6pm.) The pictured boots are $298. Cole Haan Dorian Stretch Boot
These Loeffler Randall wedge boots are some of my favorites on the roundup. Not only are they best sellers at Bloomingdale's (but on deeper sale at Amazon), they come in four colors, have a teeny tiny wedge of 1.25″, and — if you're a shortie — have only a 16.5″ shaft height. (Similar, but for $126: the Steven Intyce wedge.) The pictured shoes are $373-$695 at Amazon. Loeffler Randall Tall Wedge Boots – Matilde
Like this feature? Check out other recent installments!