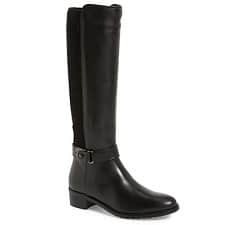 2017 Update: We still like these flat knee-high boots for work, but you may also want to check out our most recent round-up of the best knee-high boots for commuting, work, and beyond — or our most recent discussion on what boots to wear with tights to work. 
Sure, we all know what basics professional women are supposed to have in their closets, but if you're buying one for the first time or replacing one you've worn into the ground, it can be a pain to find exactly the right incarnation in stores. In "The Hunt," we search the stores for a basic item that every woman should have.
Even though it may feel like a bootie world right now, flat knee-high boots are still a great look, particularly for commuting and casual days at work. It's been a while since we last rounded them up (2014, 2013, 2012), so I thought we'd go on the hunt today. Ladies, have you bought any great knee-high flat boots to wear to work lately? Do you still like the look, or have you mostly switched over to booties for work outfits?
Psst: check out our recent round-up of knee-high heeled boots for work.
First, I thought we'd round up some general categories — note that most links (unless noted) go to Nordstrom or Zappos.
It's hard to beat $35 for a pair of boots, and these ones from Payless's comfort line (who make the reader favorite Karmen pump) look great for work. I like the quilting details along the back, and the memory foam lining sounds nice and comfy. They're $69 full price, but marked to $35 today, and available in sizes 5-13 with both wide width and extended calf sizes available. DexFlex Tysen Quilted Boot
Oooh: I like the quilting details on these, as well as the high buckle — and some of the prices are insane.  The boots come in three colors, sizes 5-10, with wide widths available — depending on the size and color, Amazon is offering them for $30-$90.   A2 by Aerosoles Women's High Riding Boot
This highly-rated riding boot from Louise et Cie is marked down to under $150 today (down from almost $270 originally).  I like the simple look, and the gold detail at the back of the heel.  It comes in three colors in calf leather, and a lovely olive suede, all for $140.   'Zada' Knee High Riding Boot
These Naturalizer boots are best sellers at Nordstrom, and it's easy to see why — they look like great basic boots.  They're available in regular and wide widths, as well as a wide calf version, in sizes 4-12; they come in four different colors.  They were originally $198 but are marked to $149 today. Naturalizer 'Jennings' Knee High Boot
Wow – Aquatalia has some gorgeous-looking boots out right now.  I actually like the look of this boot better, but the pictured one comes in regular and wide sizes 4-13 as well as a wide calf version (and in 3 colors), so I thought I'd feature it instead. Readers have been singing the praises of Aquatalia for years for comfortable weatherproofed boots, and these boots walk the perfect balance between function and form — just gorgeous.  They're $495, exclusively at Nordstrom.  Aquatalia 'Olita' Weatherproof Riding Boot 
Like this feature? Check out other recent installments!