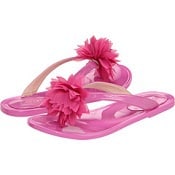 Reader V has a full-fledged shoe debacle on her hands — and she might be charged with delineating (i.e. narrowing) the rules further…
We are in the middle of the full raging summer shoe debate at my work place. I work at a CPA firm. We have a no flip-flop policy = no shoes that have anything between the toes. We also use a suggested guideline of more shoe than foot. A new rather gutsy administrative professional started wearing decorative flip-flops…. Flats with large flowers decorations.

I privately told her that flip flops are against the office policy. She commented rudely about the firm buying her all new shoes and that she was going to appeal it up to her supervisors. She did and they backed the policy but another administrative person suggested that she appeal it further. So now I am charged with researching other professional service policies.

This morning I queried my friends at local banks and law firms and they all agree with the no flip flop rule. My question is …. Are we just in a Midwestern U.S. frame of mind? Also… what may very well happen as a result of her "challenge" is that the rule gets tighten even further. We are noticing strappy sandals that are more foot than shoe. One person has suggested we go with just pumps or peep-toes but no strappy sandals at all. Thoughts????
Yowza. I always say "know your office" when we talk about shoes, but I wonder how that really shakes out in the aggregate. So: perhaps today is the day for a poll.
(For the poll below, multiple answers are allowed, and by "which are not acceptable" I mean "which would you not wear, whether there's an office policy against it or not.")
(Pictured above: Calvin Klein Jade sandals.)
If your office policy disallows something else, please note it in the comments.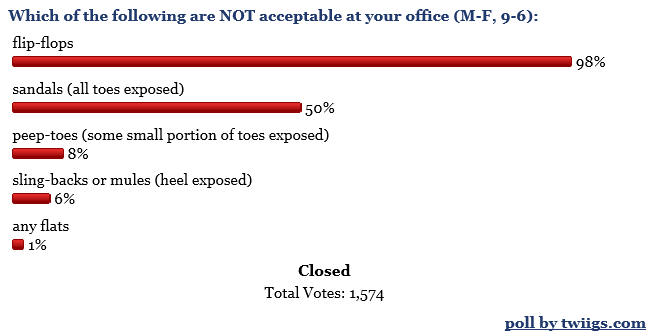 Now the more interesting question here is WHAT the rule ought to be, and why. In a perfect world, we could all just say "we're all adults, let's just let everyone use their best judgment" — but, well, there's always that lowest common denominator you have to legislate for, whether it's the 20-year-old intern, the "gutsy" administrative professional (as reader V mentioned), or that senior executive who has zero common sense. So here's my $.02 for which shoes are NOT appropriate: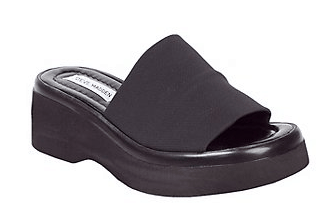 – Any shoes that make a loud sound when walking down the hallway. I started my office career in the late '90s when those Steve Madden slides were all the rage — for those who don't remember they were a flatform sandal that had a thick black elastic strap (about 3″ wide) for the vamp of your foot. (And, ZOMG, I just realized that they've been re-introduced. You can purchase at Steve Madden for $91, should you so desire.)
My point here is that they were super comfortable, we ALL wore them to work ad nauseum … and they made the loudest FLAPFLAPFLAP sound you could have imagined while walking down the hallway. Honestly, it boggles the mind to think that none of our superiors took us aside and said something. In any event: I think flip flops create similar problems (loud FLAPFLAPFLAP noise).
– Any shoe made primarily of plastic. This is another problem with most flip-flops — but honestly I'd be hard-pressed to call even a high quality leather flip-flop office appropriate. (FWIW, though, Bernardo
makes some great leather flip-flops — allegedly that brand was Jackie O's favorite.)
– Any shoe that requires a pedicure to look good. Maybe this is just me, but feet can be gross, yo. A perfectly pedicured foot is one thing — but without getting into too many details, there are so many, many other ways that feet can look (and, um, smell).
If I were Queen of the Office, I wouldn't want clients coming into the office and being forced to view feet that were less than perfect — but I'd hate to require (or suggest) pedicures of employees. So if it were me, I would just ban all sandals, for both men and women. I think it's much harder to offend in peep-toes than it is in sandals… but if it were a conservative office I'd just make both men and women wear closed-toe shoes.
Readers, what is the rule at your office (and is it a clear rule?) If you were Queen of the Office, what would your rules be?
Psst: flip-flops are still ok for your commute! Just know when to change shoes.
Some of the readers' favorite flip flops for your commute or weekend, as of 2023: OluKai / Havianas / Rainbow Sandals / Okabashi / Reef