Ladies, which are your favorite flip flops for your commute or for the weekends? Do you look for arch support, comfort, sustainability, or color?
When we've talked about flip flops in the past, it's almost always because we're including them in a list of what not to wear to work — but because it's Weekend Wednesday, flip flops are the main attraction today. So let's hear it — which are your favorites? What flip flops are best for your commute, the weekend, or beyond?
This post contains affiliate links and Corporette® may earn commissions for purchases made through links in this post. For more details see here. Thank you so much for your support!
Some of the readers' favorite flip flops for your commute or weekend, as of 2021: OluKai / Havianas / Rainbow Sandals / Okabashi / Reef
Of course, we really don't recommend wearing flip flops around the office — if you commute in them, change out of them as soon as humanly possible (if not in the lobby of the building or a block or two away). Still — we all buy them. So which are best?
The brands of flip flops most often mentioned as Corporette reader favorites are Okabashi, Reef, Rainbow, and OluKai. Other brands that have gotten the thumbs-up from readers are Havaianas, Chacos, Teva (the Olowahu style), Yellow Box, Sperry, Orthaheel, Ipanema, Vionic, Sanuk, and Tkees, the brand that looks like a Tieks typo.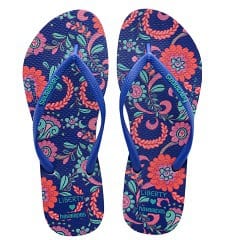 Brazilian brand Havaianas offers a staggering number of choices of colors, patterns, and designs, including solid colors, floral designs, stripes, animal prints (and animals), plus fun themes like Wonder Woman, Star Wars, and more. There's even a bridal collection. Prices on the Havianas site range from $18 to $150, and you can even design your own pair. The pictured Liberty-print flip flops are $42 at Zappos (with three color choices) in sizes 35/36 to 41/42 (which equals 6-11.5). Havaianas Slim Liberty Sandal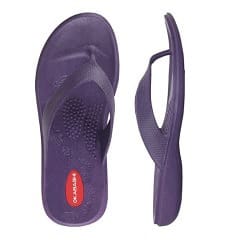 Okabashi flip flops are made in the U.S. and are recyclable. They're designed to provide arch support and they feature an "anatomically correct therapeutically contoured insole." Six main styles of flip flops (Maui, Marina, Marina Epic, Indigo Epic, Indigo Canvas, and Indigo Active) are available in both subdued neutrals and bright shades like turquoise and jade. Their list prices are around $20, and Amazon has a good selection with some as low as $7 and most around $15-$30. The pictured flip flops are available at Amazon for $14-$63 (some Prime, some with shipping fees) in a size range equivalent to 5-10.5. Okabashi Maui Flip Flops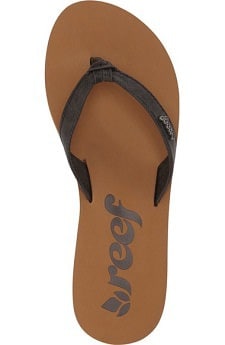 Flip flops from Reef are beloved by Corporette readers, who've written comments that call them "life-changing," proclaim "Reefs for life," and state, "You can pry my Reef flip flops out of my cold, dead hands." (Kat's a fan too!) Some Reef styles have better arch support than others. For those who like to know more about where their shoes come from, Reef's parent company VF details its sustainability efforts and supply chain info here. The pictured flip flops style is $27.95 (sizes 5-11) at Nordstrom, which also has several other Reef flip flops. Reef 'Cape' Flip Flop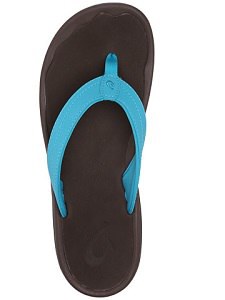 The Ohana flip flop from OluKai is popular with Corporette readers and also with Nordstrom customers, 283 of whom have rated it 4.7 out of 5 for comfort, arch support, and other features, partly thanks to its "anatomically contoured footbeds." The company offers several styles of flip flops in both neutrals and fun, bright colors like coral and fuschia. OluKai is a Certified B-Corporation, runs its own foundation in Hawaii, is a member of the Conservation Alliance, and makes its shoes' outsoles from recycled rubber. The pictured style is usually $65 but is just $42 during the Nordstrom Anniversary Sale. OluKai 'Ohana' Sandal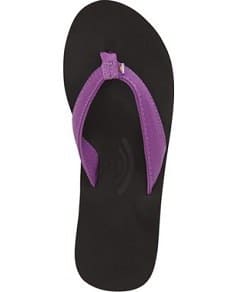 Rainbow flip flops are designed to last, as this diagram on their site explains (they're designed for arch support too!) and so they're covered under either the Rainbow Guarantee or 6-Month Warranty. The company also says they follow a Repair, Reuse, Recycle philosophy. One Corporette reader commented that Rainbow flip flops may give you blisters until they stretch out a bit, so she suggested wearing band-aids as a preventative for the first couple of times you wear them. (Rainbow wearers, has this been the case for you?) The pictured flip flops are available at Nordstrom in three colors, sizes 6-8, for $27.95. Rainbow 'Bella' Flip Flop
Some of my other favorite sandals are in the widget below (click the items for more details). These Crocs sandals are actually crazy comfortable (like walking around an amusement park with my kids all day comfortable), and I have multiples of these Birks. These Reefs has always been my preferred flip-flop (arch support!); for sportier sandals I feel like readers have sung the praises of Teva and Chacos. (Interesting: This Born sandal is highly rated at both Nordstrom and Zappos but I'm not sure I'm into it. Hmmn.)