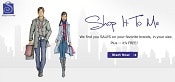 2016 Update: Check out our latest discussion of our favorite online shopping apps!
I get a zillion emails a day (seriously, it's in the range of 500 or so) — but the one must-read email for me every day is my Salemail from Shop It To Me. I've written before of my love for the company and service, and that has continued, unabated.
If you're not familiar with Shop It To  Me, here's the scoop — you tell it which brands you like, and what your size is, what percentage of sale you want to know about (I'd say do 30% off if you're building your wardrobe and buying a lot, but do something higher if you don't want to be tempted so often!  Mine is normally set at 60%, I think).  And then you pick the frequency of the email — it can come as little as once a week, but I think I get the most value out of it when it comes daily.  And then, pouf!  Every morning you get an email that tells you what's newly on sale in your size.  It catches the special one-day-only sale codes, and it tells you when something's Final Sale, right in your Salemail.  They've also recently added a brilliant "search" feature where you can log in and see *everything* that's on sale in your size (and not just what's newly on sale).  It's nice that you can easily adjust the view in the search — only show me things under $150!  Show me things only 30% off! Only show me belts, on sale, in my size!  I'm actually signed up under 3 email addresses — one to watch for my sizes, one to watch for my husband's brands and sizes, and one to watch for my mother's brands and sizes.  (Pictured:  an example of a dress I recently found in my Salemail — Kay Unger Mini Check V-Neck Dress, was $200, now $120 at Saks.) The service can be particularly great when you're shopping for one particular event (e.g., a holiday party) or a particular item (like a velvet blazer to go with your new party dress.)

So when Shop It To Me reached out to see if we'd be interested in a giveaway, I jumped at the chance.  And now, you can enter to win an item or outfit from your Salemail — up to a $150 value. Here are the rules:
1. Sign up for Shop It To Me, if you're not already — you must be a SITM member to win.
2. Leave a comment about holiday party wear by Monday, 12/20, at 12 pm ET. If you're already a member of SITM it could be which item or outfit you'd want from your Salemail, or — if you've only just joined — perhaps a general comment about holiday parties (what you're wearing to your office holiday party, which party mistakes you've seen…).  Please be sure to fill the "commenter form" in with the email associated with your SITM account (I do not recommend leaving it in the body of the comment itself).
3. We'll announce the winner on Monday, 12/20!
I've already pictured one of my favorite dresses above, but here are some of the other great pieces that have popped up recently in my Salemails, and might be my choice if I won…. I think all of them could be dressed "down" for a holiday party at the office (add a blazer, keep your hair and makeup normal) or dressed "up" for a friend's holiday party (add dangly earrings, a smokey eye, some killer heels…)
All right, ladies — comment away! Good luck to all!
Disclosures: Corporette charges an administrative fee for giveaways, and for this promotion Kat may receive "referral" credits as well.