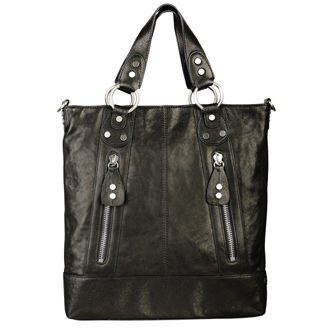 So a little while ago I was introduced to the good folks at Ellington Handbags — and not only did they send me a bag for review, but they've also offered to give one to Corporette's U.S. readers as well! I truly do love my Eva Tote. First, it's very rocker chic — love the zipper detailing, grommets, the big rings at the handles, and the seaming. The leather is really supple and soft, and it's designed quite intelligently — for example, their tech pockets are inside another big pocket, which I think will be super helpful for those times where you just want to jam everything into your bag, and then can't find it later.  (Am I the only one?) There's an interior keyfob and a light-colored lining, as well as a detachable canvas cross-body strap. Gorgeous.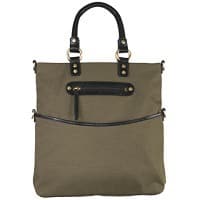 For the giveaway, if you win you can choose either the Eva (my tote — retails for $229, available in black, gray, cognac, or navy) — or you can choose the slightly more casual nylon twill Mia Folding Tote (retail $169, available in olive and black). In order to win, please leave a comment below (with your email address filled out in the field)– which bag would you choose, and why?
The Rules: Comment on this post (including your email address in the "email address field"), telling us whether you'd choose the Eva or the Mia, and why The winner will be announced on Tuesday, May 22. You must include your email in the email address field so you can be contacted by Kat in the event you win the giveaway. Your information will be held in confidence by Corporette pursuant to The Corporette Privacy Policy, and you will only be contacted by Kat in the event you win the giveaway.  Please note that this contest is only open to residents of the United States.
Disclosure: Please note that Corporette charges advertisers a fee to promote and administer giveaways. Product reviews, as always, adhere to the Corporette Review Policy.