Our daily workwear reports suggest one piece of work-appropriate attire in a range of prices.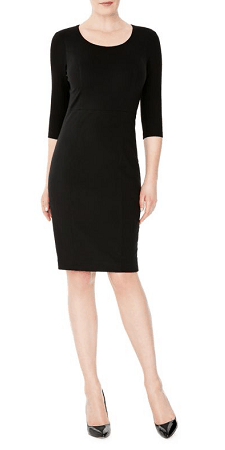 Whoa: I did not know that Gravitas is now available at Lord & Taylor. We've mentioned the line before (both in our roundup of sleeved dresses with pockets as well as our post on workwear with secret shaping properties) — but I always thought you had to go through the brand itself to buy a dress. It looks like that is no longer true — because Lord & Taylor has a number of their clothes, including the basic Amelia, which, like all of their dresses, "has an invisible high-performance lining that lifts, supports and smoothes your figure without any bunching or tugging."  Even better? Almost everything I've clicked on at L&T is available in sizes 0-24. The pictured dress is $275.  Amelia Three-Quarter Sleeve Sheath Dress
Admin Update: I understand some of you guys are having problems with a CW ad, and I've notified the ad company, but they can't find the ad — please use the report button the next time you see it or any offensive ad on this site.  As always, note that with Internet advertising different ads are shown to different people based on factors, so the viewing experience is completely different for every person. (I tend to get a lot of ads for stock photo sites when I view my own site because I'm always buying stock photos.) Tens of thousands of ads are going through the ad company, and some of those are mislabeled or otherwise miscategorized so that even if I've opted out of certain things at my level (such as "downloadable utilities," which drive me personally batty, or autoplay video ads) they may be showing regardless.  The only way they can find these ads is if you use the Report button. (My ad rep's exact words: "Without a report that sends us all the technical information about the ad and the partner it originated from, it is almost impossible to track these down. It isn't so much like a needle in a haystack, but a needle in a stack of needles.") Here's an image of what you'll see when you click the Report button or the ! at the bottom of the screen (which is being buggy for me and probably other users; my ad company is looking into it now). Here's the relevant privacy policy for the third party that handles the "report" feature if you care to read it.
This post contains affiliate links and Corporette® may earn commissions for purchases made through links in this post. For more details see here. Thank you so much for your support!
Seen a great piece you'd like to recommend? Please e-mail [email protected]