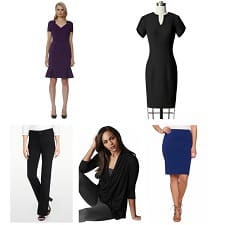 During the holidays, do you reach for workwear with secret shaping powers? I asked freelancer Ashley Wermick to look into it for us — thank you again, Ashley! – Kat
Between the eggnog, freshly baked cookies, and other seasonal treats, it's easy to gain a little something extra during the holidays. And when you want to create a smooth, streamlined figure, body shapers are a fast fix. However, Kat tasked me with finding something even better: clothing lines that have shapewear already built into each garment. There's no need to shimmy and struggle into Spanx when you have this fashion-forward attire hanging in your closet. Check out these five brands that will instantly suck you in, so you can enjoy another sugar cookie (…or five):
1. Project Gravitas
Featuring high-quality clothing made right in NYC, Project Gravitas' pieces are meant to flatter every shape and figure. Their office-appropriate dresses and skirts all have discreet shapewear sewn right in, offering medium control and made of a moisture-wicking material. Prices: $175 to $395 Sizing: 0 to 16, with option for shorter hem-length Availability: Online only Pictured: Indira Dress ($295 at Project Gravitas)
2. NYDJ
NYDJ's patented Lift Tuck® technology is designed to make you look one size smaller. While slimming denim is what the brand is widely known for, they also offer trousers, dresses, tops, and athletic wear with the same figure-flattering construction. Prices: $60 to $198 Sizing: plus, petite, and regular (00P to 28W) Availability: Online (Nordstrom, etc.), NYDJ stores, most major department stores, select boutiques Pictured: Teresa Modern Trouser in Future Fit Denim ($62-$95 on sale at Zappos)
3. NUE by Shani
NUE, by designer Shani Grosz, is a collection of dresses that blends modern technology with figure-flattering techniques like ruching and darts. From chic sheaths to cocktail frocks, all NUE dresses utilize built-in compression fabric to make you appear a full size slimmer. Prices: $135 to $420 Sizing: 2 to 16 Availability: Lord & Taylor, Bluefly Pictured: Ponte Knit Dress ($273 at Bluefly)
4. Miraclebody
You may be familiar with Miraclesuit swimwear, but the company also has a clothing line full of cute and comfortable casualwear. Denim is made with a "tummy control panel" and contoured waistband, while tops come with a slimming inner liner and built-in shelf bra. Prices: $72 to $135 Sizing: 2 to 16 and S to XL; 16W to 24W and 1X to 3X Availability: Amazon, Bloomingdale's, and select boutiques Pictured: Tobi Solid Twisted Wrap Top ($22-$86 at Amazon)
5. Shape FX
Though it looks like this line has been discontinued, you can still find Shape FX items at several online retailers. (And, bonus, at heavily discounted prices!) Look toward this brand for body-shaping tops and pants, as well as workplace-ready dresses, skirts, and blazers. Prices: Starting at $19 Sizing: 2 to 28 Availablity: Spiegel, QVC and resale sites like Tradesy, thredUP and eBay Pictured: Ponte Knit Pencil Skirt ($34.82 at QVC)
Like this post? Pin it or feel free to share it on FB!
(L-all)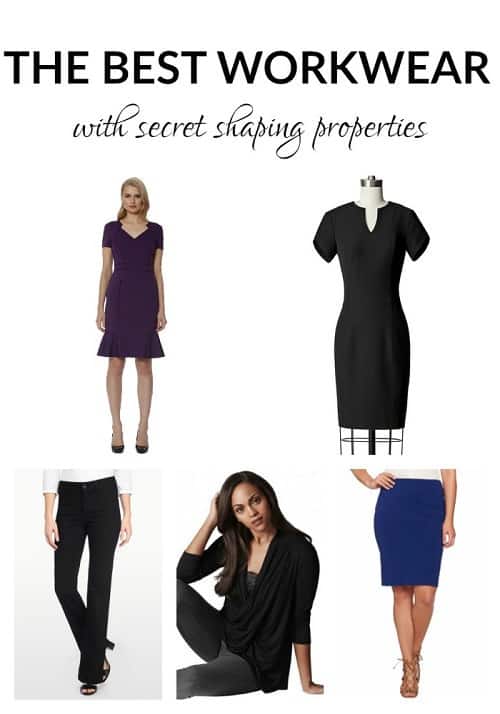 Social media picture via Pixabay.
We are a participant in the Amazon Services LLC Associates Program, an affiliate advertising program designed to provide a means for us to earn fees by linking to Amazon.com and affiliated sites.