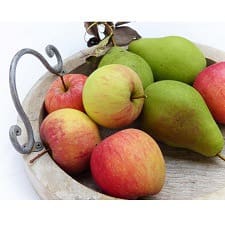 2018 Update: We still stand by this advice on dressing for your body type, but you may also want to check out our more recent discussion on the best work clothes for different body types.
I've been interested in Stacy London's new venture, Style for Hire, for a while now — so when one of the stylists offered to do a guest post, it seemed like a great idea. Today's guest post is from Lani Rosenstock Inlander, a Style for Hire stylist in the Washington, DC area… – Kat
Current images via Stencil. Originally pictured (2010): Apples and Pears, originally uploaded to Flickr by mksavage.
If you are not dressing for your body type, you won't ever look your best. If only 8% of women have the so-called ideal hourglass body shape, the other 92% of us better learn to work with what we have. One must trick the eye by creating balance and proportion using clothing. Let's go over some tips and tricks for four common body shapes.
What types of tops best flatter short torsos?
The secret to dressing this body shape is to create length in the body line with longer, leaner tops. No tucking! A vertical, open neckline, such as a v-neck or scoop-neck, will draw the eye up. Sometimes women with short torsos think they can't wear belts. I disagree. A strategically placed belt can actually trick the eye into creating a new waistline.
Here are some additional tips for common body types. Not sure where to start? Grab a measuring tape and measure the largest part of your bust, your stomach and your hips/thighs. The area with the biggest number = your body type.
Bigger On Top
Structure is the best friend of women who are large busted. A jacket with a strong shoulder is going to bring the eye up from "the girls." And while we are on the subject, get fitted for the best quality bra you can afford. Lifting the girls up will help create a waist and make your clothes fit better. A good bra can make you look as if you've lost 10 pounds! Create balance by adding volume to your bottom half with a wider pant or an A-line skirt. Wearing a short pencil skirt or an overly-skinny pant will only emphasize your disproportion.
Bigger on Bottom
Create balance by wearing heavier fabrics on top, like tweed or leather. A small shoulder pad can also be used to add more structure to your jackets. Keep the line clean on the bottom with a straight skirt or a mid-width pant that has a higher waist. No pleats, please! Deemphasize the hip with a trouser that falls straight down from the widest part of the hip and darker colors on the bottom. A pointy-toed shoe will keep your legs from looking short. One last tip for this body type: don't be afraid of alterations. Instead of buying low-rise pants to prevent gaping at the waist, have a tailor pinch in the waist. The result? Pants that fit and flatter!
A Little Extra in the Middle
The key to dressing a body with a little extra in the middle is to trick the eye into looking away from the waistline while creating just that. Create a waistline with a jacket that has a nipped-in waist and a higher armhole. Add an a-line skirt and voila! Instant waistline. A mistake a lot of women with this body type make is over-emphasize their thin limbs. You'll create more balance with a patterned skirt or one with a longer length. You can also move the focus up to your face with color, a v-neck or a strong collar. Always buy pants to fit the largest part of you. Low-waist pants will only draw attention to the middle. Buy pants that fit your waist and then have them altered to fit your hip.
Lani Rosenstock Inlander is a Style for Hire stylist in the Washington, DC area. Learn more at www.styleforhire.com/stylist/lani-inlander.
Readers, what are your best tips for dressing for your body type? What things have you learned to avoid or love for work?