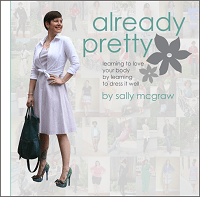 How do you figure out what kind of figure you have? Today's guest post is from Sally McGraw, author of the blog Already Pretty and the new book, Already Pretty: Learning to Love Your Body by Learning to Dress it Well
, now available for purchase on Amazon (more info below). Thank you for the excerpt, Sally!
The shortcut to understanding your body is to identify your body type, yet pinpointing your body
type
can seem impossible. You pore over photographs of women in black unitards labeled as "pears," "apples," and "string beans," and see nary a one that resembles your own body. (Shortly after that, you ardently wish that the female form could be described in non-food terms.) I've seen body-type breakdowns with as many as twelve possible options and never once found an example body shaped like my own. And I know why. Because almost no one is a true pear, apple, or string bean. Most of us are string beans with bulky, muscular thighs, or pears with relatively broad shoulders, or some variation on the template that makes fruit-specific clothing styles look atrocious on our actual bodies. And while body-type breakdowns are meant to serve as guidelines, the folks who write them never seem to offer work-arounds for those of us with variations on the highlighted themes. Nevertheless, you'll have a hell of a time finding clothing that flatters your form if you don't familiarize yourself with your form. You need to know about your shape and proportions to effectively evaluate clothes—both new and old—and to know they conform to the four figure-flattery mandates listed above. But you needn't base that familiarization on body type. Why use such a confining and imperfect system? I've got a better, simpler, and more personalized way to learn about your marvelously unique shape. So grab your style journal, haul out the full-length mirror, strip down to your undies, and take a long, hard look.
What aspects jump out as your defining physical traits?
Look at yourself in the mirror and identify which bits are markedly large, small, or relatively out of proportion. Try not to judge yourself and don't use someone else's body as a point of comparison. Just take an honest look. Do you have a prominent stomach, long neck, tiny feet? Do your arms seem short, your shoulders broad, your breasts small? Does your torso seem much longer than your legs, or vice versa? Look at everything, not just the major regions like hips, midsection, and bust. Examine your wrists and ankles, leg and arm length, calf and thigh circumference. Then jot down some notes in your Style Journal about the features of your physical form that seem to define it. Let's use me as an example. I have broad shoulders, which make my A-and-a-half-cup breasts seem relatively small. My hips and thighs are full, which make my natural waist seem bitsy. My feet are well proportioned to my muscular calves, but my hands and wrists are small compared to my arms. Notice how I am noting my features mainly in comparison to my other features. What's the point in comparing my boobs to Salma Hayek's? Even if I had her boobs, I wouldn't have her stature, her shoulder span, or any other aspect of her figure. Her boobs would look totally different on my frame. I'd rather focus on how
my
boobs interact with other aspects of
my
frame.
What do you love best about your body?
Every woman secretly longs to brag about her flat abs, ladylike collarbone, long legs, or shapely derrière. Subtler physical traits can become favorites, too: radiant skin, lustrous hair, delicate bone structure. Put your clothes back on and sit down with your trusty
Style Journal
. List your top ten favorite physical aspects, right off the top of your head. Now rank them from the thing you love most to the thing you love least. Think about why you adore these traits so much. Did you inherit them from beloved relatives? Work hard for them on your own? Do they set you apart from the crowd? Think about clothes you already own that accentuate these features and write down any techniques you already employ to draw attention to them. Think about how you feel when you're able to show off your body's best and how differently you'd feel if doing so were an everyday priority. Attempting to identify yourself within a set of predetermined figure types is often frustrating and confusing. Your body is unique and wedging it into some arbitrary category can feel downright unnatural. But these two simple steps are both personalized and detailed, helping you identify traits that define your body and features that make it marvelous. Thinking long and hard about these two questions will give you a good idea of what you've got, so that you can decide how to work with what you've got.
Sally's new book, Already Pretty — complete with contributions from bloggers at Fashion for Nerds, Addicted 2 Etsy, Une Femme de un Certain Age, The House in the Clouds,  Fashion for Giants, Headlines & Hemlines, Barking Dog Shoes, Respect the Shoes, Weesha's World, The Snug Bug, Minnchic, and Stacyverb — can be purchased at: