Today's guest post is from Jenny Hamilton, who is a senior in-house lawyer at a Fortune 500 company and the mother to a 5 month-old little girl. Jenny explores the world of fashion, dressing for the corporate world, and motherhood daily at JennyHamiltonStyle.com.
Just as you don't pack on the baby weight overnight, once you have your baby, your body is going to go through another major change – this time in reverse! So how do you make the transition? Here are five easy tips:
1. Large, open cardigans make excellent transition pieces because they can double as a comfy jacket for the office and they can be worn during maternity leave with a pair of soft leggings.
2. Invest in long, fun print scarves that you can tie high above the baby belly to give you shape (in the form of an empire waist) during the pregnancy, and you can wear it long and loose around your neck to hide the post-baby bloat.
3. Stretchy knit skirts, like this one from Isabella Oliver, transition from maternity to post-baby beautifully.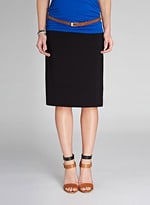 4. Another key piece is a soft, knit wrap dress that can grow (and shrink) with you. You can wear a cardi or jacket over for work, and remove and add oversized earrings for a night out.
5, Finally, here's what NOT to buy: shoes of any sort except flats or wedges with good supports that can accommodate swelling towards the end of pregnancy. Your weight could cause your arches to fall and flatten (and enlarge) your feet post-baby, so take a vacation from heavy shoe shopping.
Want more great pregnancy advice? Sign up for our pregnancy newsletter for working moms-to-be!