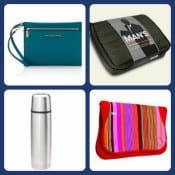 If you're carrying a million bags, how do you look professional?  How can you lighten your load and reduce the number of bags you're carrying? Reader R wonders…
I work in a large corporate environment and recently had a daughter. I'm back at work, but I feel like a bag lady. I'm only 5'3″ and have to carry in my laptop, purse, pump, lunch, and coffee. (Not brave enough to add my gym bag to the mix, although I'd like to.) I feel like the bags overwhelm my frame and generally make me look smaller, younger, and unprofessional. How do others juggle all this STUFF?
Congratulations on your daughter, R!  Great question — I can see how this is a problem for new mothers, but also for other people carrying too much stuff.  We've talked about what your tote bag says about you, as well as how to save your back while commuting, but we haven't really talked about a) how to lighten your load, and b) how to balance your load (particularly if you're petite) so it looks more managed.
From my perspective, most of reader R needs to do is to reduce the amount of stuff she carries.  Some tips: [Read more…]