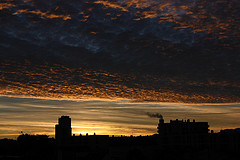 January is for resolutions, but some say the real work begins in February — today's guest poster, Desiree Moore of Greenhorn Legal, LLC, wonders if that isn't the case… Pictured: Dawn of a new day, originally uploaded to Flickr by rlanvin.

I have been thinking a lot lately about the way we judge time, and how we can change the way we feel about something depending on when we are feeling it.  December is a great example.  In December, there is a buzz in the office.  For many companies, it is the end of the fiscal year.  The holidays – or just some unbridled time away from the office – are around the corner.  There is a sense of winding down, of peace.
And in January, we come back to the office with a renewed energy.  With hope.  Our personal and professional resolutions are in tow, and the weight of last year is a distant memory.  This early lightness is surely an insight – this year is going to be a great one.
If you are like me, however, by February, it is back to business as usual.  The resolutions find their place at the bottom of the to-do list (Spinning at 6 a.m. – no thank you).  The cyclical nature of working in an office – traditional or otherwise – starts to weigh on us again.  Bosses, colleagues, adversaries, and clients are back to being unreasonable (or annoying – whatever).  If you are in a cold place, the early winter snow has turned to slush and being outside is unpleasant.  So we count down to Friday as if this is some benchmark of something, make the most of the weekend, and do it all over again.  And again.  Oh man.
Let's stop right here (before this gets any more depressing) and sort this out.  What is it about December?  What about January?  Aren't these just artificial points in time?  I understand that in those months we are given a break from our everyday lives – but can't we mimic the thought patterns and perspectives of those months, even if just in some small way, and carry those good feelings with us throughout the year?
I can't say I have any definitive answers, but, after giving it some thought, I do have a few ideas:
Take Note Of "Endings" Throughout The Year
Part of what is meaningful about December is that it marks a clear, unequivocal end.  It is the end of the year, and often the end of some of the big projects, deals, or cases we have been working on for months.  We can set our professional clocks to zero and start over again.  This, in itself, is energizing.
Throughout the year, however, we have the tendency to gloss over similar "endings."  Instead of allowing ourselves the satisfaction that comes with finishing something, we move forward constantly in a linear fashion.  We're onto the next project without hesitation.  This year, consider doing this differently.  Take note of your endings.  Do something affirmative when you finish something significant to mark that you have done so.  Get a manicure.  Take a long lunch or a walk outside.  Organize your office and file away any documents related to the finished project.  The ritual you choose doesn't matter as much as the awareness.  Allow yourself a moment to recognize that you have completed a cycle, and move on to the next project with the strength and satisfaction that accompanies this.
Calendar Events To Look Forward To
When you pick up a new calendar, there are certain events pre-printed inside.  Hanukkah, Christmas, New Year's Eve, among others.  This month, choose three to five events to add to your calendar, in addition to these big events.  The events do not have to be big (or costly) ones, though they should be markedly different from your everyday plans.  Ideally, your events will involve some preparation and some investment of time so you build up to the event and enjoy it even more when it comes.  (This will also prevent you from wishing your time away until the event, as we all tend to do.)  Plan an adventure weekend trip, host a themed dinner party, invite friends to visit you (and plan a tour of your city).  Fill your calendar with a few out-of-the-ordinary things to look forward to throughout the year and emulate some of that excitement you feel when the holidays and end of year are approaching.
Make Time For The Things That Are Important
At bottom, the end of the year, the holiday season, is meaningful because we are given permission to relish in the things that are important to us.  It is professionally acceptable to do so.  We take time away from work, visit with friends and family, and indulge in good food, shopping, and other things we love.  While we can't realistically do this in excess year round, we also can't afford to do the opposite – to let our work consume us, to neglect the people and things that make our lives full.  Throughout the year, make time for the things that are important to you.  Make a wine date with close friends.  Cook a celebratory meal on a random Friday night.  Buy gifts for others.  Do something charitable.  Whatever you choose, you may find that this alone restores you to that December and January state of mind (yep – even in February).
Readers, when do you buckle down for your resolutions?  How do you keep that resolve throughout the year?
—
Desiree Moore is the President and founder of Greenhorn Legal, LLC. Greenhorn Legal offers intensive practical skills training programs for law students and new lawyers as they transition from law school into their legal practices. Ms. Moore is also an adjunct professor at Loyola University Chicago School of Law and was an associate at the law firm of K&L Gates. She can be found on Twitter at @greenhornlegal. Join Desiree for a live, career-defining CLE seminar this month in Chicago, Illinois.