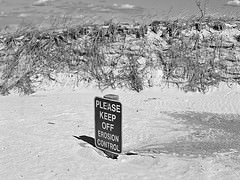 401K fees can be such a complicated topic — so when the good folks at DailyWorth offered to guest post I jumped at the chance to have someone wiser than myself cover it! – Kat
Is your 401k plan costing you too much?
Many people don't realize that they're being charged a fee (or fees) for participating in their 401k plan–and over time, those fees can eat up a chunk of your savings. (Pictured: Erosion Control? originally uploaded to Flickr by muffinman71xx.)
Shocked? You're not alone. In fact, new federal rules requiring 401k plans to be more transparent about fees take effect in July — and women everywhere should sit up and take notice.
Keeping retirement fees low is critical for women, who tend to live longer than men and thus need to be vigilant about keeping investment costs low, so they can hang on to more of their cash.
Over 20 or 30 years, a fee difference of even 1% can swallow tens of thousands of dollars. For this reason, cheaper funds are often found to perform better over time–because the lower fees mean that you net a bigger return.
One of the most commonly talked-about investment fees is the expense ratio, which is basically a management fee charged by the mutual fund (and you probably have a few mutual funds in your 401k portfolio).
But some plans levy a handful of fees on top of expense ratios, such as administrative fees, and investment adviser fees.
The new fee disclosure rules will require your 401k provider to spell out what they're charging you. Already some large 401k providers (Vanguard, Schwab, and Lincoln Trust, to name a few) are offering cheaper plans to small businesses–which means lower fees for employees.
"In an ideal 401k plan, the expense ratio for every fund option should be less than 1%, and the plan should offer index funds with an expense ratio of less than 0.5%," says David McPherson, a financial planner in Falmouth, MA.
The heftiest fees in your portfolio–and the ones you have most control over as an investor–are expense ratios. As an investor, it's relatively easy to compare the expense ratios of various funds to pick the best fund for you that's also the least expensive.
For a quick overview of your retirement portfolio–including your average fees compared with the fees of a comparable portfolio–try plugging your holdings into Morningstar's Instant X-Ray. Or compare different funds being offered by your 401k by using the FINRA fund analyzer.
If your all-in fees are higher than 1.5%, lobby your employer to switch 401k providers–it will save them money and help you keep more of your nest egg.
DailyWorth is a community of women who talk money. They deliver practical tips and inspiring ideas to help you earn more, save more and spend smarter. Sign up for their free email here.