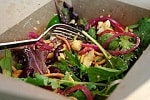 2016 Update: We still stand by the below advice — but if you'd like to check out our more recent discussion on how not to gain weight as a summer associate, you can check it out here. 
Summer is nearly upon us! As law school, business school, and college  interns flood the workforce, calendars fill with networking lunches, team building meetings, and "get to know your coworkers" cocktail parties —  all with lots of food (and alcohol). Reader A is particularly worried about the summer associate life in BigLaw:
I'm about to start a job as a summer associate at a Big Law firm. I've been told to expect daily lunches out, and been warned about the corresponding weight gain that usually happens. I'm particularly sensitive about not wanting to be the High Maintenance Associate–if I'm daily asking for "dressing on the side," will I come off as obnoxious? Any tips for navigating the summer? Thanks.
This is a great question, because the summer can be a really difficult time for both those being recruited and those doing the recruiting. We've talked about business lunch etiquette before, and we've also talked about trying to diet while working a corporate gig — but now let's talk maintenance. (Pictured:  Salad Lunch, originally uploaded to Flickr by 427.) Some tips:
– Follow an 80/20 rule. There are a lot of opportunities to overindulge during the summer, both at work-related events and non-work related events. Do your best to follow a sensible, healthy diet about 80% of the time — and only aim for the steak frites / gourmet fried chicken / etc. entree about 20% of the time. If you're a heavy drinker, realize that most of your 20% choices will be in the alcohol field — there are a lot of liquid calories there.
– Seafood is your friend. Ounce per ounce, fish and shrimp have much lower calories than things like steak or red meat (leaner meats like chicken and turkey fall in the middle). So long as you're not ordering something fried, the seafood section of the menu should always be where you head first. (Caveat:  salmon is on the fattier side — but it is filled with so many healthy Omega 3 oils and other benefits that we frequently eat it as a "splurge.")  Watch out for rich sauces with butter or cream — and don't be shy about ordering it on the side. (We don't think anyone will give you trouble for ordering things on the side — if you're really sensitive,  perhaps try to make no more than 2 modification requests when you give your order.)
– Salads aren't always the best bet for your meal. The dressing can be a problem, as noted by our reader, but other additions like croutons, nuts, hard-boiled eggs, avocado, and cheese can make salads extremely high calorie. We recommend ordering the plainest salad option as your appetizer — most restaurants serve mixed greens — and it really should not be a problem to ask the waiter to put your dressing on the side. (Here's one of our favorite tips — ask for lemon juice on the side, and spritz it over the plain salad. It's good by itself, or — if you are having a bit of the dressing, it really makes the dressing "pop.")
– At catered parties, try to be aware of how many hors d'oeuvres you're eating. We've heard different rules for this — some people have a 3/1 rule, whereby they have to eat 3 healthy things for every 1 unhealthy thing they eat. This author's personal goal is to try to focus on the healthy foods (veggies, sushi, etc.) and only splurge on 3 really yummy hors d'oeuvres.
– Avoid drinks mixed with sugary liquids like tonic, juice, and liquors like triple sec. Instead of a vodka screwdriver, get a vodka soda. (Soda has no calories.)  Or, better yet, stick with wine or beer. It is in your best interest to avoid getting drunk at a work event, for more reasons than we can count.
– Finally:  Pay attention if your clothes are getting tighter. We like to use our jeans as a sign for when it's time to cut back, but a particular belt, pair of pants, a sheath dress, or even a button-front shirt can be a gauge. The trick is to wear them frequently enough (or at least try them on) that you notice. (And, dear readers, bad news:  if your sheets still fit on the bed, the dryer is not shrinking your clothes.)
Those are our top tips — readers, what are yours?