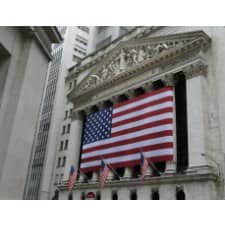 2018 Update: We still stand by this advice on how to react to a stock market drop, but you may also want to check out our recent discussion about whether you invest in stocks or index funds.
Do you know what to do with your investments when the stock market takes a dive — how to react to a stock market drop? Were you worried about what would happen with the markets today? Late last night, as Donald Trump was getting close to winning the presidential election, the headlines began to announce dire predictions: "Trump's win turns stock market into shock market," from CBS News. "Be very scared for your 401(k) right now," from Mother Jones. "Stock Futures Plunge as Donald Trump Posts Surprising Win," from the Wall Street Journal.
Not everything about such a situation is bad, as Shannon McLay, founder and president of The Financial Gym, told us this morning before the markets opened:
I think that today will be a gift to investors as the stock market will likely drop on the uncertainty of a Trump presidency, but what that means for investors is that they have the opportunity to buy stocks, ETF's, mutual funds, etc., on sale. Who doesn't love a sale? If you have cash in your investment accounts, you should consider investing in the uncertainty, especially if you are investing for the long run.
Now that it's late morning, we know that things aren't as bad as expected. Under the headline, "Markets meltdown fails to materialise," the BBC reported,"The S&P 500, Dow Jones, and Nasdaq stock indexes were little changed after the first hour of trading." The Chicago Tribune reported that the "conciliatory comments" in Trump's victory speech "helped global stock markets recover a large chunk of their earlier losses Wednesday."
If there had been a big drop in the stock market, what would you have done? Do you know what the best things to do are? These are some of the experts' tips:
Unless you're about to retire, try to take the long view. Don't, for example, keep logging in to check your accounts every day! According to Fidelity, "Over the past 35 years, the market has experienced an average drop of 14% from high to low during each year but still had a positive annual return more than 80% of the time."
Keep contributing to your retirement accounts — especially if your employer does a 401k match.
Assess your tolerance for risk. This investment-risk tolerance quiz, created by two personal finance professors, can help.
Talk to a professional. Get some advice from a professional — here's our advice for finding a financial planner.
When the stock market drops, what is your strategy? In general, how much risk are you willing to take on in your portfolio? If you were watching election coverage late last night, were you worrying about the market predictions?
Further Reading:
Pictured: Pixabay