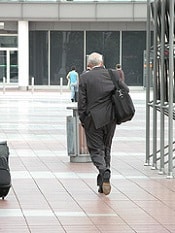 How do you campaign for accessibility and flexibility in your workplace when the policies are less than ideal?
Yesterday's post on how to lighten your tote bag got me thinking — I was so intrigued by the commenters who noted that they have to carry a huge, bulky laptop to and from the office because that is the the only approved way to get access to the office system.  When I was working in BigLaw, my firm used Citrix to give everyone access to the Docs Open system and other office programs — there were even times you could access document review programs from home.  (Ah, glory days.) 
The only thing we needed to access the system was a small, flat device (a 2″ by 1″ fob) that displayed a long number that changed every thirty seconds. When you needed to log into the system, you entered the current security number.  That was five years ago, so it honestly didn't occur to me that companies with information security issues would not be using something similar to Citrix in 2013.  (Even the Department of Defense has a better remote access option, according to a 2011 Lifehacker article.)
Maybe there are good reasons Reader R's company isn't using a secure remote system — but maybe it's just an old policy that hasn't been reevaluated in a while or from the right perspective. 
So readers, let's talk about this — how do you change an office policy to make the conditions better for you (and those who come after you)? 
Sheryl Sandberg talked a bit about this in Lean In — regarding how she insisted that the Google parking lot have spaces reserved for expectant mothers — and this was kind of mentioned in a recent NYT article about workplace flexibility  — but I can't seem to find much else about this topic on the Internet.  
For my $.02, here are some ideas…
1) Send an email to the first person who, you suspect, might know why office policy is what it is. In this case, for example, I might write an email like this. "Hi — I'm curious about our office policy of only accessing the system through our 10 lb laptops. I understand other remote access systems exist that provide much more flexibility, and I'd like to help the company explore those options. Are you the right person to talk to about this? Could we have a 15 minute chat sometime this week?" You may get bounced around through a few people before you find the right person who knows why the policy exists.
2) Avoid Entitled Princess Syndrome by approaching this like management. My personal fear in bringing up an issue like this has always been that it would make me seem like an entitled princess, so my advice is to do do a bit of research from the perspective of management before you go in — i.e., how is it good for the company? 
A 10 lb laptop is an ergonomics issue (plus a pricey investment that requires maintenance if every employee must have one), an efficiency and happiness issue, and a friendly remote accessibility policy can be a great PR point — for new recruits, for "top companies for women" analysis, even from a green perspective.
(On the flip side — for this particular issue — there may be two questions you can ask during the initial 15-minute chat that would improve YOUR life and avoid making this a big research project.  1) May I have a second company laptop to keep at home, for a little while?  2) May I buy a 3 lb netbook and give it to the IT department to make it more secure? If the answer is no, proceed with attempting to change the policy.)
3) Offer to help research the options. Maybe this issue sits squarely on the IT Department's shoulders. But maybe the IT department has a million other issues to consider, and would appreciate an offer of help. One reason a lot of these policies don't change is because it isn't important enough to the people in charge to research the issue and implement the changes, so you have to do offer to be an integral part of the process. This may sound overwhelming to you if you're a new mom — you need more unbillable work like you need another hole in your head, right? — but this is important. In addition to making your own life better, you're showing your company that you take initiative and can lead. Enlist a few office friends in similar situations (or even pregnant coworkers who will soon be in this situation) to help if you need to, but it's a good thing to take ownership of this project. Make sure you know what research was done on this issue the last time the company researched it — check files and even committee reports.
4) Once this becomes a project, consider getting a second committee involved. By increasing interest in the project you're giving it more momentum and increasing the likelihood that all your work will actually succeed in changing the policy. (You're also raising your own profile even further, but of course you're not just doing this to benefit your own career.) Likely candidates that may exist in your company: The Women's Committee, the Young Associates committee (Gen Y workers have a much greater expectation of work flexibility), the Recruiting Committee, and even the HR department. If you aren't directly working with the Tech Committee, obviously get them involved as well.
5) If there are major stumbling blocks to the project (price, compatibility, implementation, a recent investment in another system), draft a quick email that summarizes those stumbling blocks and send it to everyone now interested in the project, with a specific suggested reassessment date in bold letters somewhere near the top of the email (if not the subject line). You should add it to your own tickler system, as well.
Readers, have you tried to change a company policy? How did you avoid "entitled princess" syndrome? For those of you happy with your workplace accessibility options, let's name names — what products, services and companies do you use?
Pictured: Lapshoulder, originally uploaded to Flickr by Rakeman.