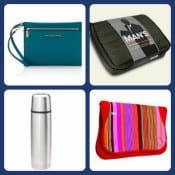 If you're carrying a million bags, how do you look professional? How can you lighten your load and reduce the number of bags you're carrying? Reader R wonders…
I work in a large corporate environment and recently had a daughter. I'm back at work, but I feel like a bag lady. I'm only 5'3″ and have to carry in my laptop, purse, pump, lunch, and coffee. (Not brave enough to add my gym bag to the mix, although I'd like to.) I feel like the bags overwhelm my frame and generally make me look smaller, younger, and unprofessional. How do others juggle all this STUFF?
Congratulations on your daughter, R! Great question — I can see how this is a problem for new mothers, but also for other people carrying too much stuff. We've talked about
what your tote bag says about you
, as well as
how to save your back while commuting
, but we haven't really talked about a) how to lighten your load, and b) how to balance your load (particularly if you're petite) so it looks more managed. From my perspective, most of reader R needs to do is to reduce the amount of stuff she carries. Some tips:
– Replace your purse with a wristlet. 
I'm not sure about you, but
I carried
about 90% more stuff than I actually needed or used before I had a baby. When I do wear a purse these days, I grab my wallet, my lip gloss, and my phone… and not much else. This is one of the reasons wristlets are so popular these days. (We just featured one
yesterday
; as well as
here
and
here
.)  Go for a bright color that you can find easily in a larger tote, and invest in one nice enough that you can take it with you on lunch with a client. Everything else that you were carrying in your purse (e.g., tissues, umbrella, sunglasses case, snacks, etc), keep in your desk drawer.
– Sleekify your lunch
. Some lunch totes are huge. My current favorite one is this
square, flat lunch tote
that would easily slip into a tote bag — I see no reason why this couldn't do double duty to carry your expressed milk home. I suspect you can still fit the
bottle-shaped ice pack
your pump probably came with, but even if you can't you'll probably be fine with just a regular flat ice pack unless you're commuting for hours. (In that case you may want to consider freezing your milk in
flat bags
for the commute home — maybe use a separate tote bag or even a brown paper bag to contain your milk if you're using a public freezer.)
– Reconsider your method of transporting coffee.
  I'm assuming you feel burdened by your coffee because you're holding a to-go mug in your hand while juggling all of these other bags. Can you invest in a
thermos
that you can just throw in your bag without worrying about it spilling? Alternatively — coffee makers are relatively inexpensive (Amazon has them
as low as $30
; I'll bet you can find them at a discount store like TJ Maxx for half that) so you may want to consider buying one for the office. Even
a $5 funnel
allows you to make coffee with just boiling water and a few supplies (filters, coffee).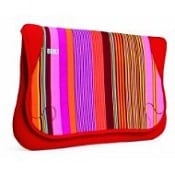 – Stop carrying a laptop. 
Why are you carrying your laptop to and from work every day? If it's an in-office security issue, ask HR or your boss to buy you a filing cabinet that locks. If it's a file-transporting issue, please consider remote storage options such as Dropbox or Google Drive,
remote log-in options
(which let you access a computer in a different place) like LogMeIn, or even
an old-fashioned flash drive
. If you truly must carry your laptop to and from work every day, consider using a
laptop sleeve
instead of the tote (I've always been a fan of the bright and colorful Built sleeves, such as the
envelope sleeve
at right), and buying an extra power cord to keep at home. Another option:  see if you can downsize to a much lighter
netbook
for your daily commute and only use the full-sized laptop when you really need to.
– Finally, the pump.
  I'm assuming you're lugging the whole thing back and forth every day because you need it in your off hours. I probably could have squished most, if not everything, listed above into the tote bag pump that I had,
the Medela Pump in Style
. If your pump came without a tote bag (or came with a smaller tote bag), you may want to consider getting a larger bag that you can use for your commute. The
Lo & Sons OG tote
is really big and would be a good option; even a big beach tote (like
this Lands' End one
) could work —
I've seen
a lot of partners use it for carrying massive documents and more to and from the office. If, with all of these suggestions, you're still carrying multiple bags and worry that it's overwhelming your frame, the one suggestion I have is this: 
carry one bag that has shoulder straps, and one bag that is more of a satchel
(with shorter straps designed to be carried by the handle or over your forearms, such as
this Longchamp tote
). Not only will it literally help you balance your load, but it'll visually balance you, as well.
Readers, what tricks have you used to lighten your load? Which big tote bags are your favorite? Particularly readers who've had a daily commute with a laptop and/or a pump, please chime in!
We are a participant in the Amazon Services LLC Associates Program, an affiliate advertising program designed to provide a means for us to earn fees by linking to Amazon.com and affiliated sites.