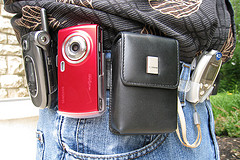 2016 Update: We still stand by this advice on how to look stylish with an ID badge, but you may also want to check out our advice on how to look professional but still be prepared for workplace emergencies.
Ever wondered how to look stylish while carrying your ID badge and Blackberry? Today's reader wonders the exact same thing!
(Pictured at left: I am Batman – 63/365, originally uploaded to Flickr by Amarand Agasi.)
I thought perhaps you could help answer a question about how to stylishly wear work-mandated items such as badges and blackberrys. At my office we are required to wear our ID badges at all times, in plain view, above the waist. 90% of people opt to wear those cheap cloth neck lanyards, but I just find them hideous and tacky. Is there anything I can use to attach my ID badge (vertical credit card size and shape) to my shirt or jacket without poking holes in my clothes everyday? The second item is my blackberry. Carrying my purse everywhere (meetings, etc) seems like overkill, and no one else does it. Since I don't wear always wear a belt I usually just clip the blackberry to my pocket, but this tends to stretch out my pocket or to just look plain strange. But what should I do if my outfit doesn't have pockets OR a belt? Is there a better solution than just carrying my blackberry in my hand?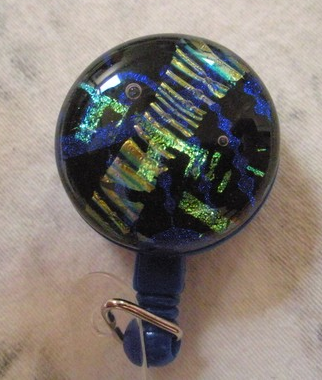 For the first item — ID badges. Hmmn. Yes. Well, one option is to
find a beaded lanyard
instead of a cloth one — a few websites turned up in a Google search (
Medalye Designs
,
Womanrare Designs
), and I'm sure you can find a number of Etsy sellers who either sell something similar or will be happy to create something for you. A search for "ID Badge Holder" on Etsy also turns up this
gorgeous retractable ID holder
that looks like a brooch made from art glass (pictured at right) from Etsy seller
jewel2jule
. (It has a clip, so no holes are necessary.) 
Readers, what other fun ways have you found to wear your ID?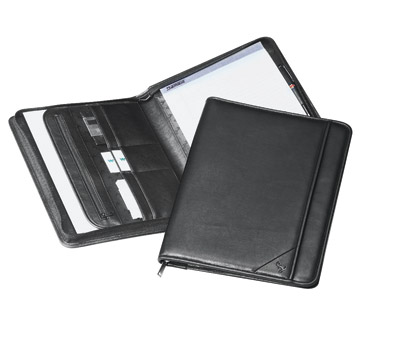 As for the second item about the Blackberry — to be honest, I've primarily just seen women carry them in one hand to and from meetings. However, situations do arise that require a secure place for your Blackberry — going to a meeting and returning to your office with a box, heavy books, or other awkward items like poster boards. (Oh, the glamorous life!)
The blazer pocket is a great "easy" answer to the how-to-carry-the-Blackberry dilemma
— the fabric is usually sturdy enough to hold a Blackberry, and the pocket is usually large enough. (I am now curious about whether my love for blazers stems from this very need, especially since my trousers don't usually have pockets (or if they do I've had them sewn shut, which is just more flattering for me). Besides, as well all know, I love a blazer anyway for a quick and easy way to convey authority. (If you think your jacket only has "faux" pockets, take another look — I've written before about
cutting open pockets
and other things that manufacturers often sew shut. In fact, while we're on this topic, here's a PSA:  Ladies, don't forget to remove the lightly-sewn "X" that closes the slit on your skirts, jackets, and overcoats!) 
Another option is to find a leather portfolio that zippers shut in some way
— basically like a grown-up Trapper Keeper. (For example, pictured at left is the Samsill Sterling Zipper Pad Holder, available at Office Max for $31.99. Amazon has
something similar
for $41.40.)  I found this particularly handy because in addition to being a way to carry a Blackberry if needed, I could also keep the portfolio "stocked" with tape flags, post-its, extra pen, and more things in there which might come in handy if a "quick" meeting turns into a four-hour ordeal. (I'll admit it, I kept lip gloss in there too!)  You might also want to consider a carrying case for your Blackberry, such as this one from Uncommon Goods.
Readers, do you struggle with carrying Blackberries, IDs, and other work-mandated items? How do you manage?
We are a participant in the Amazon Services LLC Associates Program, an affiliate advertising program designed to provide a means for us to earn fees by linking to Amazon.com and affiliated sites.