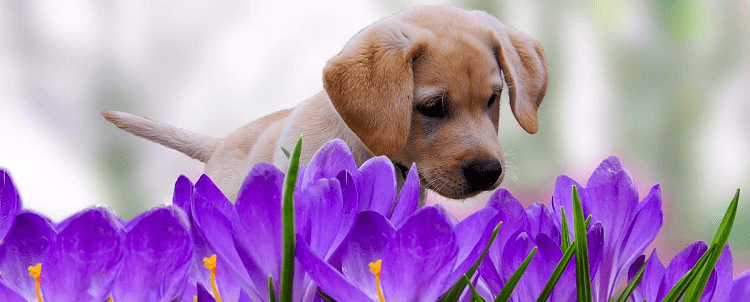 Have you thought about getting a dog but are worried about how a pet would be affected by the long hours you're at the office? Today we're talking about how to get a dog when you work all the time — you can definitely make it work as long as you stay realistic and plan ahead!
(By the way, as a former shelter employee, I highly recommend adoption — either from a rescue group or a shelter — but if you're not willing to consider it, here's important advice on finding a reputable breeder. Don't forget that many breeds are especially prone to certain health issues — and never buy a dog from a pet store.)
If you've got a dog at home and have a busy schedule with long hours, how have you made it work? Have you made any mistakes or learned any lessons to pass on to readers who are considering getting a dog themselves?
Tips on How to Get a Dog When You Work All the Time
Here are a few tips for how to get a dog when you work all the time, including some expert advice from certified dog trainer Melissa Cocola of Positive K-9 (at Creekside Resort) in Walworth, New York.
Choose the right breed (or breed mix). Certain breeds are not ideal if you work long hours and don't have tons of time to exercise a dog. Melissa says that dogs who need more activity include many terrier breeds as well as herding breeds, Nordic breeds, and hounds.
"However, all dogs can be better managed with adequate exercise," she says. Basically, do your research! If you adopt an adult dog from a foster home (either from a shelter or rescue group, and either a purebred or a mix), you can ask the foster caregiver specific questions about the dog's temperament and energy levels. Here are some lower-energy dog breeds to consider.
No matter what the breed, a puppy may not be right for you and your schedule. Puppies can be adorable and fun, but taking care of them can also be pretty frustrating, and at times, maddening. Educate yourself ahead of time on what housetraining a puppy entails (not to mention basic training in general), and consider that it's harder to maintain consistency with a puppy's routines if you're not home that much.
Definitely familiarize yourself with crate training if you're planning to get a puppy. Melissa says that adult dogs can usually be left alone for a typical eight-hour workday, but puppies and senior dogs need more frequent bathroom breaks — about every four hours.
Make a plan about caring for your dog during the day. If you work more than eight hours a day, or if you'd just like your dog to go outside when you're gone, you have a couple of options: taking your dog to doggy daycare, or asking a neighbor or a petsitter/dogwalker (or even a personal assistant) to let your dog out and/or take him for a walk.
Some good sources to find people are Rover, Sittercity, and Care.com — and you can ask your vet for suggestions, too (You might ask if staff members do petsitting on the side, as well.) You can even set up a camera in your home to see what your dog gets up to when you're gone. Here are Melissa's thoughts on making a good choice:
As much as we would like to believe that all dogs enjoy the company of other dogs … some simply may not. If your dog has a history of being social then [doggy daycare] may be a great outlet to exercise and enjoy the day. … It is important to find a reputable daycare that will be a good fit for you and your dog. You want to look for a facility that allows small groups of dogs to interact while closely supervised, as many dogs are uncomfortable in a confined area surrounded by a large group. It is important that your dog gets downtime during the day while at daycare vs. an environment where they have no option to leave the group.
Make sure your dog has something to do when you're gone — not just outdoor walks. Melissa says, "What matters most is a combination of both physical exercise and mental stimulation on a daily basis. A walk twice a day is ideal. Also, games, puzzles and interactive toys are great for mental stimulation." Here are some puzzle toys at Amazon to check out, for example.
Some people leave the TV on to give their dogs some background noise, and there are videos made for dogs, including many, many on YouTube. (I'm not sure how dogs typically react to these, but my cats are definitely entertained by videos for "feline audiences." It's hilarious.)
For readers with dogs: What's your advice on how to get a dog if you work all the time? If you work long hours, what do you do to make sure your dog stays happy, healthy, and out of trouble? Did you adopt or buy from a breeder? If you have a purebred, how did you choose what kind of breed to get? Would you do anything differently if you could?
We are a participant in the Amazon Services LLC Associates Program, an affiliate advertising program designed to provide a means for us to earn fees by linking to Amazon.com and affiliated sites.
Picture via Stencil.