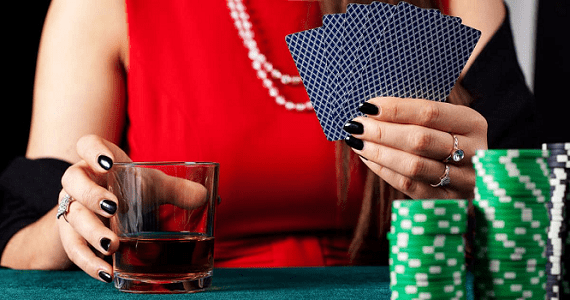 Have you ever worried that your face gives away your thoughts every time? Putting on a poker face is always a good skill to have, but especially with performance reviews (and bonus season) coming up, now is a great time to ponder how to get a poker face at work. Here's Reader K's question:
A mentor of mine said one of my best qualities is that I'm genuine; however, I was told that resulted in being easily read and having zero poker face. If people can read me, they know how and where to hit, which isn't good. How can I develop a poker face and be less easily read?
Good question, K, and I can't wait to hear what the readers say. I also have a face that is far too easily read, but here are a few ideas on how to get a poker face at work (and beyond):
Sing a silly song in your head to offset strong emotions. A male friend told me years ago that he sang the MacGyver theme song to himself whenever he was about to cry, and that stuck with me. (Pssst: Here's our last discussion on crying at work.)
Learn a bit about body language, because it can work with or against your facial expressions. If your face falls when you feel defeat, and then your body language follows (perhaps by slumping, crossing your arms or legs to protect yourself, etc.), the internal emotion only becomes stronger. If you feel defeat and you force your body language to do the opposite of your emotion (such as sitting up straighter, maybe even forcing a smile), then at the very least, whoever is in the room with you will be confused.
Cover your tells, physically if you have to — for example, rub your forehead or fake a cough or sneeze.
Take some lessons from media training, as shared by a commenter on Ask a Manager when they had an open thread on this topic. He or she noted to "relax your eyebrows to their natural resting position and take your tongue away from the roof of your mouth (it tends to go right there when you're holding something back — it's a physical response). This automatically relaxes your face and neutralizes your expression," and also recommended carrying a small object you can discreetly touch to "center" you, such as a coin in your pocket.
Have a safe, neutral, go-to phrase. In one of my favorite movies, Joe Versus the Volcano, one of Meg Ryan's characters blankly says, "I have no response to that," whenever she's confronted with something she doesn't necessarily understand. The character isn't really a great role model, per se — and you probably shouldn't use it as often as she does in the two days Joe knows her character — but I've always taken power from the fact that it's a valid response. You don't owe anyone more than that. Other options here might be, "Tell me more about your thoughts on ____," while you gather your own thoughts, or asking a question involving logistics or facts.
Readers: If you consider yourself to have a good poker face, what are your best tips? For those of you who had to develop a poker face, what's your advice?
This post contains affiliate links and Corporette® may earn commissions for purchases made through links in this post. For more details see here. Thank you so much for your support!
Social media image credit: Shutterstock / Photographee.eu.