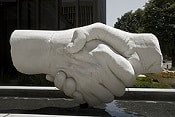 How can you promote your friends and colleagues in a positive way? Considering all the talk from Lean In about how women should be more supportive of each other in the office, I thought this was a great question from Reader E:
I am an intern (waiting on bar results) at a small law firm. A branch office of my firm is hiring a new attorney for that office, and my supervisor asked me If I knew anyone who was looking. I suggested my friend A., who submitted a resume. Today I found out that the attorney in the branch office wants to interview A. This attorney also wants to talk to me, "candidly," about A. I am confident in my friend's ability, but I know this office has had a friend of a current attorney not work out. What can I say to promote my friend and what topics or traits should I avoid?
I actually think there is some etiquette involved when it comes to promoting friends and colleagues, talking up their accomplishments, and even helping them network. Here are some pointers, but I'm curious to hear what else the readers say:
– When suggesting your friend for a specific job: Ask A (let's say her name is Allison) for a copy of her resume, and what she thinks her top three selling points are. I would then either a) write a short email attaching the resume, or b) swing by the hiring partner's office, hand-delivering a copy of the resume, to say basically, "My friend Allison just applied for Position Y, but I wanted to bring you her resume myself. Allison is a good friend from law school; we worked together on law review and she won the moot trial competition. I think she'd be a great addition to the firm. Please let me know if I can answer any other questions." Note a few things about this:
it's whatever her professional name is — Allison, not Allie or some other nickname (ask her what she wants).
it's very brief and direct (I would also put a clear subject line "Suggestion for Position Y — Allison Smith"
you're telling your boss (or hiring partner or whoever) exactly how you know this person, which lets you realistically scale how much you can/have to recommend her. If you worked with her closely on a project and think she's amazing, you can say that — if you just know her from around school but didn't work closely with her, you can say that you know her socially but that her resume is impressive because __ (e.g., moot court competition was very tight that year; it was difficult to get on law review, etc, etc). When asked to speak "candidly" about her friend, as Reader E has been, E should focus on what she knows about Allison's work skills, as well as helping the boss put Allison's resume in perspective through E's shared experience at law school.
obviously, what you are talking about is her work product and her professional skills — I'm sure it doesn't need to be said, but don't talk about how sweet she is, or how she can drink you under the table, or about some other skill that has nothing to do with work.
be cognizant of the fact that her performance will reflect on you, both in her interview and her work product. Reader E understands this already. This is why you should be specific about how you know the candidate.
These are outside the scope of Reader E's questions, but there are other ways we can help friends professionally, and I think worthy of discussion here as well…
– When talking up a coworker's accomplishments — I think this is done best when it's natural in the conversation. "I'll check in with Allison Smith, because I know she just celebrated a big win in a similar matter." Depending on the size of the company I think the last name can be important.
– When introducing someone for networking — this is one of my personal pet peeves, because there's definitely an etiquette here…
 first, ask both parties if it's OK to introduce them. As in, two separate emails or calls, not a general email simultaneously sent to both parties.
if you have multiple email addresses for them (e.g., a Gmail address and a work email), ask which one is preferable
be thoughtful in your introduction — when introducing the two, write a very brief introduction that covers everyone's accomplishments: Allison, I'd like to introduce you to Janet, one of my coworkers and an expert in the field of X; you may recently have seen her in the news because she represents Media Person Y in matter Z. Janet, I'd like to introduce you to Allison — as we discussed she is fascinated by the field of X, and has been working closely with Professor B on a paper."
if you know that the more important person has a very limited schedule, you may want to set expectations in your email: "Allison, perhaps Janet would be available for a brief phone call in the next week or two to give you advice on how to get more experience in X? You can call her secretary at 555-1234 to schedule it."
Readers, how do you think Reader E can promote her friend for this particular job? How, in general, do you think women can promote other women in the office and in their careers? In general, what do you think the etiquette is when helping a friend professionally? 
Pictured: Shaking Hands, originally uploaded to Flickr by Nicola Corboy.