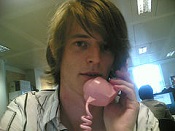 2020 Update: We still stand by these Skype interview tips, but you may want to check out our latest roundup of the best 7 tips for video conference calls.
My first thought when we got this request for Skype interview tips was, "garsh, these times we live in!" followed by, "of course, we will all be doing these very soon"…
Help! I am a 1L interviewing for summer associate position and the firm has decided to do a Skype interview. I am terrified I will look washed out/ too made up/ etc on camera. Any tips for hair/makeup? Also, my career service office recommended wearing a nice blouse, but I feel a suit would be more appropriate.
Wow. Ok. I've only used Skype a few times (on my Mac laptop, primarily) to talk to a bestie who lives in London. From my limited experiences with Skype, I would have to say: it does not seem to be the most flattering. You don't know where to look, because you want to see the screen and see what they're doing, but you should be looking at the camera, and nothing is eye level, and it's all very weird. (Pictured: nick skype, originally uploaded to Flickr by nedrichards.)
Some Skype interview tips for your job interview:
1) Download the program NOW, if you haven't before. Start playing around with it. You may even want to see if there's a way to record yourself talking on Skype (or talking on the other end of Skype) so you can practice — really practice — where to look and how to do it. Make sure your sound is good, make sure your Internet connection is good. My guess is that your computer should be nearly eye level in order to do this.
2) Make sure everything about the call is professional. What's your username? If possible get something resembling your e-mail address (even if it has a random number after it) — there are no points for creativity. Next, look around the room where you'll be interviewing. If there's a blank wall behind you, fine. If it's your giant poster of Robert Patterson, you might want to find another locale. Given my choices, I'd go with a bookcase behind me, but really, just make sure there's nothing that could be misunderstood as reflecting poorly on your personality or character. I'd also make sure that if you have any roommates (or a significant other, or kids, or even pets) that you barricade yourself inside a room, perhaps with a sign on the door about how you're in the midst of a telephone interview and appreciate silence. (Turn off the ringer on your landline, if you have one, and the ringer on your cellphone, if you use one.)
2) I'd wear a full suit for your Skype job interview. It will get you in the "interviewing" mindset, and will help you feel more professional during the interview. In this About.com article on video interviewing, the Tech Expert for Skype recommends avoiding patterns unless you're sure how they'll look (dots look worse than stripes) and staying away from bright colors (sky blue looks great, but red/hot pink don't look so hot). You could just do the top half of the suit (cue memories of some comedic anchor joking about only wearing boxers during the newscast) but this could work against you — you might have to walk across the room to get something. Play it safe; it's an interview.
3) For makeup, I would advise paying attention to undereye circles, flyaways, acne, and so forth. We're a bit surprised to see the advice from the Skype expert, suggesting women wear "high-definition foundation (creating soft-focus effect in any kind of lighting), blu ray high-definition matifier (refines lines, minimizes pores for a polished look) and blu ray high-definition lip gloss (for a high shine, plumping effect)" — perhaps this is the world to come? As luck would have it, Sephora has a lot of those things for sale right now, including HD makeup. (Affiliate link updated as of 2017!)
4) Finally, focus on your posture. Because you're in your own house you may feel more at home — don't; this is still an interview. You might also want to be wary of awkward pauses in the interview, when you might be tempted to fidget, look bored, or allow yourself to be distracted (as you might during a pause in a telephone conversation). You're still on camera; act as if you're sitting in that person's office.
Readers, please weigh in with your best Skype interview tips (particularly if you've interviewed someone via Skype!)…
Social media picture via Stencil.