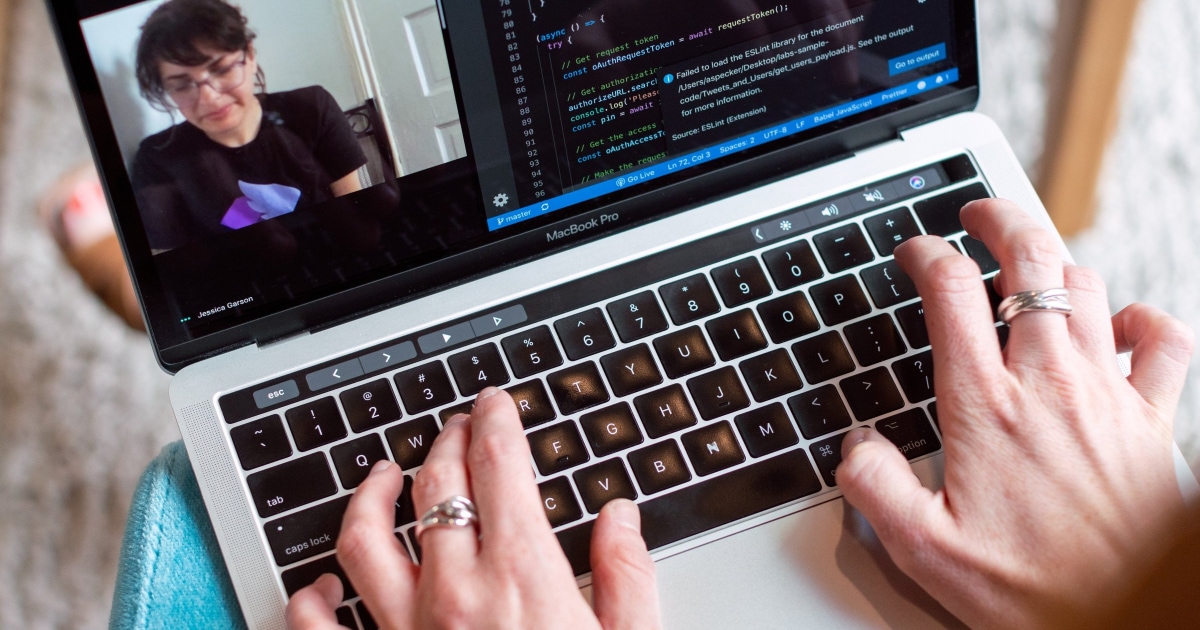 Over the last month or so, a lot of us have taken part in many, many more video conference calls than usual, whether Zoom or otherwise. (You've probably noticed that Zoom has now accomplished what Skype had done pre-pandemic and has become a verb.) We've talked about video interview tips in the past, as well as how to put your best self forward during a Skype call — but it's been too long! For obvious reasons, this seemed like a great time to share some advice (beyond the basics of "be on time," and "please mute yourself when you're not talking"). If you're looking for technical tips, see the "Further Reading" links at the bottom of this post. Readers, what are your best video conferencing tips? What etiquette or professional judgment issues are you seeing? What are your best tips for video conference calls?
N.B.: Feel free to ignore the appearance-related tips below. We know some readers are interested in that sort of info while others of you currently don't have the energy to worry about how you look on video calls — or don't really care if you're not looking your best. And that's fine! If you're getting up every morning and putting on a full face of makeup, that's fine too — whether or not you're going to see anyone that day. Maintaining parts of your regular workday routine can be comforting and provide some much-needed structure at a time like this, too. (In a recent news post, we shared an article called "The Psychology of Wearing Makeup When No One Can See You," which is an interesting read, too.)
One more important note: If you're not already aware (perhaps you're avoiding reading the news right now for the sake of your mental health), you should know that Zoom has faced serious criticism lately for several issues: VTC hijacking/Zoom-bombing, leaks of users' personal information, misleading marketing about end-to-end encryption, and other security flaws. Some companies (and schools) are ditching it in favor of more secure options.
This post contains affiliate links and Corporette® may earn commissions for purchases made through links in this post. For more details see here. Thank you so much for your support!
Here are 7 tips for video conference calls:
Buy headphones to use on calls: If you have to join frequent video calls, you may not want to rely on your computer's mic and speakers — consider leveling up. At the very least, use earbuds with a built-in mic, or even better, buy some higher-quality headphones. A noise-canceling feature is a bonus. Here are some recs from PC Mag and CNET — and if you only want a mic, here's a random rec from me: the one my son uses for playing Minecraft with friends. We pored over Amazon reviews recently (and verified them using Fakespot) and bought this one, which cost $25 and has worked great for a month so far.
Make yourself easy to identify: Not only should you let the meeting organizer know whether or not to expect you — that's basic courtesy — but when you enter the meeting, change your listed identity to your full name. Coworkers who haven't met you in person will appreciate it, as will the person taking meeting minutes. This is especially important if you're audio-only — I've been in Zoom meetings where I've scrolled past the attendees to see a few people who were simply black rectangles with a phone number. Depending on the size of the meeting and who's on, you may also want to identify yourself before you speak — again, especially if you're joining by phone. (That tip reminds me of this hilarious parody of a conference call — an oldie-but-goodie.)
Consider a virtual background: Your average coworker isn't going to judge you for a messy room, but if you're feeling self-conscious about it — or need a fun little pick-me-up — there are a ton of virtual backgrounds you can use for Zoom, including built-in ones. (Here's how to use them.) For example, in a recent news post, we linked to free backgrounds from West Elm, which feature photos from various stylish homes (including the loft from Queer Eye!). If you're using Microsoft Teams and want to downplay your home clutter, background images are provided, or you can use the "Blur" function to slightly blur whatever's behind you.
Add a third piece to your outfit: In a post last year on what to wear to a very casual office, we referred to the classic "third-piece" rule of fashion. (Plot twist: That very casual office is now your home!) If you're wearing a basic top and pants in the morning (well, real pants or PJs — whatever) but want to feel more professional for a video conference call later in the day, consider adding a blazer, cardigan, or jacket, or an accessory such as a scarf or statement necklace.
Another easy element to add last minute is a bright lip color, which we mentioned in our now very relevant post on the best makeup products to fake a good night's sleep.
Try a filter — or just look like you're using one: Zoom's Touch Up My Appearance filter gives a "soft focus," which makes me think of '80s glamour shots but actually is pretty subtle. (You can see a couple of examples of "before and afters" in this article.) For a "real world" way to soften your appearance a bit, make sure you're backlit instead of directly facing a sunny window or harsh artificial light. (Don't overdo this — a mysterious silhouetted figure is a bit too dramatic for a work Zoom call.)
If you wear foundation, note that Makeup For Ever's bestselling Ultra HD Invisible Cover Foundation was "originally created to appear flawless to the naked eye and on advanced HD cameras." Hmm, intriguing.
Refresh your hair in five minutes: Over at CorporetteMoms this week, April recommended her favorite dry shampoo from Psssst! (it's also Kat's favorite dry shampoo) and also mentioned this popular option from Living Proof. Take a few minutes before your video call to use a dry shampoo and you'll feel less self-conscious about everyone seeing your not-exactly-freshly-washed hair. Here's a helpful tip from Vogue: Wait two minutes after spraying, so that the product can absorb the oils in your hair, then use a boar-bristle brush.
Quickly ditch the shine: If you haven't managed to wash your face and/or shower today, and your skin is looking a bit oily, take 10 seconds to use a blotting paper. My old standby is Clean & Clear Oil Absorbing Sheets (available at Amazon, Target, drugstores, and so on). I've loved these things for years and years, and they make a big difference. (I just wish they were a bit more subtle for using when I'm out and about — their bright blue color is anything but.) I've bought a copycat product from a cheaper brand, but it didn't seem to work quite as well. If you want a more upscale option, you can find Fenty Beauty's Invisimatte Blotting Paper at Sephora.
What are your favorite tips for video conference calls? Any fun Zoom backgrounds you've found? How about embarrassing mishaps from video calls to share, either yours or a coworker's?
Further Reading:
Stock photo via Pexels / ThisIsEngineering.
We are a participant in the Amazon Services LLC Associates Program, an affiliate advertising program designed to provide a means for us to earn fees by linking to Amazon.com and affiliated sites.