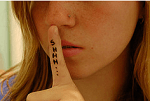 2018 Update: We still stand by this advice on how to secretly use LinkedIn to change careers — but you may also want to check out our latest discussion on LinkedIn, including how to get the most out of your LinkedIn profile in 2018. Check out our other advice on changing careers!
How do you use LinkedIn to get a new job — without alerting your coworkers or boss that you've got one foot out the door? Reader B has a GREAT question:
I am nearly six years into my first job, which is in commercial insurance. I want to transition out of this industry and thought augmenting my LinkedIn profile would be helpful (to show up in search results, connect to new contacts, etc.). HOWEVER, my entire work history and a good proportion of my contacts skew insurance. Since my current co-workers can view my profile (through second and tertiary contacts – I am not directly linked to any of them at present), I don't want to raise any red flags at my office. Any suggestions?
Excellent question! I'll be 100% honest here: whenever I get a little LinkedIn activity notification that someone has updated their experience, I wonder whether they're starting to look around for a new job. I suppose it's a bit like wearing a suit — if you never, ever wear a suit to the office and then one day, you do, everyone starts to wonder whether you've had an interview that day. But if you're savvy about your LinkedIn usage, though, you can get around that. (Pictured: Secret, originally uploaded to Flickr by val.pearl.)
I think there are two phases to using LinkedIn to change careers. The first phase is the research phase, when you want to discreetly look at other people's profiles, see what connections you might have, and join a lot of new groups in your target industry to get an idea for the conversations happening within the industry. Even this can be tricky, but if you change your settings you can do it mostly on the down-low.  (Log in –> click your name on top right –> "Settings" –> Privacy.  You can turn off your activity broadcasts, limit who can see your activity feed, and more. The other thing to consider is Groups — you can change which joined groups are visible on your profile page by going to Settings –> Groups –> "Groups Order and Display" –> Member Setting.) You may want to ask a friend who's privy to your job-hunting plans to make sure that these settings have worked and that, say, joining a group did not result in her getting an activity notification email.
I would recommend using the research phase to a) figure out which skills you need to acquire in order to transition, as well as which skills you should highlight when you update your own resume, and b) figure out who you may know who you can talk to off-line. Look for people who are in your ideal career, as well as people who have transitioned out of your current career and how they did it — even if they've transitioned to a different career they may have some great tips for ways to distill your insurance-specific skills and experiences into a more general resume. You can do a lot of networking
The second phase is the "I'm actively applying to jobs and expect people to check out my LinkedIn profile" phase.  If you're already working with a recruiter he or she may be able to tell you when you enter this phase — in some industries, as soon as you submit a resume people will be looking at your online footprint, whereas other industries it will be only when you've reached the "strong candidate" stage.  I think you have two ways to go here: the first is to build up your LinkedIn profile so it resembles the resume you're shopping around — focus on your general skills, decrease your insurance-specific experience, showcase all of the new-career-specific groups you've joined, and so forth.  The second option is to DECREASE your online footprint — just have the companies and years on there, and hide some of the insurance-specific groups that you've joined. Your LinkedIn profile won't really be working for you — but it won't hurt you either by making you seem like a diehard insurance fan.
I do think there's a third phase as well, which is what most people seem to address when talking about how to use LinkedIn for job hunting — commenting on various groups so you're thought of as an expert, having a very built-out LinkedIn profile so recruiters can find you, even changing your headline to something like "Experienced insurance manager looking to transition to X."  I think a lot of this advice is better suited for people who have been laid off, or are hunting for a new job out of school — but if you're actively employed it can be a little hard to make those changes without making it obvious that you've got one foot out the door.
Readers, what are your best tips on how to secretly use LinkedIn to change careers or hunt for jobs?  Have you found that it helped you, hurt you, or didn't make a difference in your last job change?