I've recently gotten a few requests on how to set up a home office. For example, from reader B:
I work part of the week out of my law firm's office and part of the week from home. I would love to hear ideas for organizing a home office that isn't just boring filing cabinets (but I need somewhere to stash files – points for nontraditional filing cabinet ideas).
Great topic, particularly as more and more employers offer tech budgets and other accommodations to make working from home easier. (Pictured: New Home Office, originally uploaded to Flickr by TypeFiend.) Some must-haves:
– A good Internet connection. I always take my Internet connection for granted until I visit friends or family with a slow connection, and I marvel at how they get any work done at home at all.  (I think "a fast enough computer" goes without saying.)
– A good monitor. If you have a tech stipend from your employer, this is the first place I'd spend it. One for your home, and if the one at your office isn't good enough, one for your office as well.
– A printer and scanner.  As we discussed the other day, I do my best editing when I do it on paper; I also scan things frequently.  Even though I have a good filing system at home, I still am more likely to check my computer for old but important documents.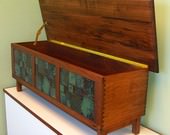 – A system to keep your work files separate from your personal files. While I did a lot of work at home when I worked as a lawyer (mornings, nights, weekends), I never really had to keep documents at home — everything was accessible online. (The firm had its own secure system; when I worked at the nonprofit we used the program Log Me In, which allows remote access to a computer that is turned on and connected to the Internet.) That said, when I brought papers home, I always brought them in a folder or redweld, and was careful to keep things together. I frequently worked with bound volumes of exhibits; instead of throwing away older versions of the volume I would bring the volume home if I thought the docs therein would be helpful.  However — if I were your employer, to be honest, I would prefer that things be filed at the office — if you quit or leave, the employer is the one who will need those files.  And I'll bet that the odds of having something last minute and urgent come up that requires checking the files are going to be minimal enough that you can either consent to go to the office on those rare occasions, or direct your secretary to look something up and scan it for you or messenger it to your home. That said, if you're looking for fun filing ideas, Jeri's Organizing & Decluttering News has a number of fun options — my favorite is the stunning filing bench, pictured at right.
– I think even a home office benefits from personalizing touches such as pictures of your family.  Because it's in your home, you can consider going a bit more sentimental, pricey, or even inappropriate.  For example, I would display pictures on my desk at home that I wouldn't at the office (such as pictures of me in a hospital gown holding my son), or keep things out that I wouldn't at the office for fear of them being stolen, such as a small malachite box that was the first gift my husband ever gave me, or my collection of pennies from that j-school professor who gave a penny to whoever turned in the best story for an assignment.
Another great source for this is The Office Stylist, who frequently features fun and creative offices.  Lifehacker often covers home offices, as well.
Readers, what are your tips for setting up home offices?  How often do you work from home?