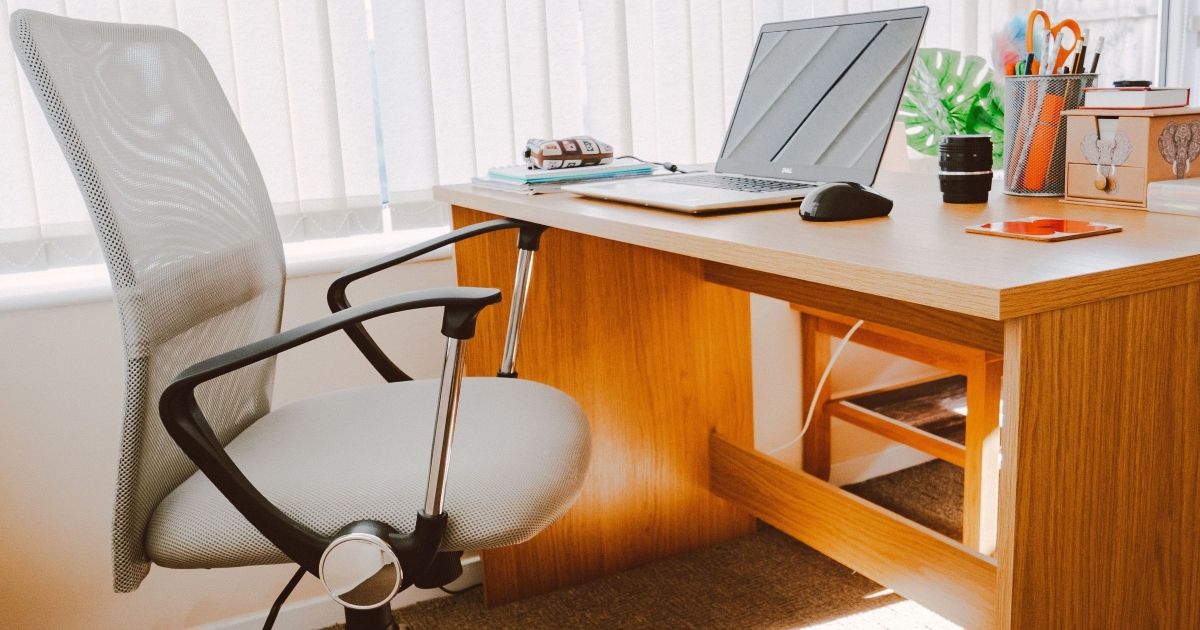 If you haven't worked from home regularly and now suddenly find yourself doing it every day (like it or not), you may be quickly realizing that your current desk chair isn't up to the job. Maybe it was fine for sitting in for relatively short periods of time to pay bills or answer some emails, but if you're going to be at your desk for several hours a day now, it may be time to up your chair game.
Readers have had a few good discussions about this in the comments lately, and today we're sharing some of their recommendations — from budget options to more upscale designs. What have you found to be the best office chairs for working from home? What other home office furniture do you especially like?
As you're setting up or fine-tuning your home office, also check out our past posts on how to set up the best home office, better ergonomics at the office, petite office ergonomics, and how to organize your office. If you're finding that your home office needs a bit more color and you're looking to jazz it up a bit, see our recent post on seven great places to get art for your office and home.
This post contains affiliate links and Corporette® may earn commissions for purchases made through links in this post. For more details see here. Thank you so much for your support!
If you're currently making do with an uncomfortable folding chair or dining room chair and desperately need a better option — but don't want to spend a lot — try this reader recommendation at Amazon.
The commenter who suggested it acknowledged that it isn't the most comfortable chair in the world but noted that it's perfectly fine for temporary use. It has a soft, padded seat; a curved, breathable mesh back rest; adjustable height; and lockable reclining positions.
The chair is $68.99 Ergonomic Mid-Back Desk Chair
If you want a chair that's easy to move to various places in your home (maybe you like a change of scenery from day to day?) and/or you don't have a lot of room at your desk for the typical large, wheeled office chair with arm rests, this IKEA option could be a good solution.
The reader who recommended it wrote that she's had it for almost five years — and that while it's not exactly ergonomically designed, it's reasonably comfortable. The pictured faux-leather option is $89, but other color and fabric options are available. (IKEA sells covers for this chair, too, and they range from $10–$40.) Henriksdal Chair
Staples is always a reliable source of office chairs. This one, which is from the company's own brand, has thousands of positive reviews — and the reader who recommended it noted that she's had it for three years.
The high-backed chair is well padded (including padded armrests) and has adjustable locking tilt with tension control, as well as lumbar support. It comes with a 7-year manufacturer's limited warranty, which is more than I would have expected.
The pictured brown leather is $175.99, but the black version is currently on sale for only $119.99. Osgood High-Back Bonded Leather Manager Chair
The reader who suggested this desk chair from AmazonBasics praised its comfort and great value — both the black and gray versions are $139.99. It has a breathable, mesh back; flip-up arm rests; adjustable locking tilt, back height, and lumbar support pad; and, unlike the other chairs we're featuring, it has a head rest.
(Hmm, anyone else feel like that could be dangerous? Not for your body, but for your productivity. This would be me: "Hmm, I'll just close my eyes and lean my head back for a minute…. Oops, was I just asleep for an hour?") Adjustable High-Back Mesh Chair
This stylish, ergonomic chair from Poppin has an impressive 12-year warranty — and I love this fun, happy shade of blue. (It also comes in bright orange, slate blue, and dark gray.) The chair has a mesh back rest; adjustable, lockable tilt; adjustable arm rests, and adjustable resistance on the reclining back.
It also has earned Greenguard Gold Certification, which means it has low chemical emissions. The reader who suggested it said it's been extremely comfortable for the two years she's had it so far. This chair is $299 at Poppin.com and Amazon. Max Task Chair
If you want to splurge on a chair, Herman Miller is an excellent option. This model, which was designed by Yves Béhar, comes in the pictured wheeled version as well as a version with legs, but the reader who recommended it said she prefers the comfort and adjustable features of this one.
You can choose different options for the casters, back support, seat, and arms, and 10 colors are available, ranging from a bright red and bright medium blue to black and three shades of gray. (There are also five frame/base color combinations.) The SAYL has a 12-year warranty and offers a 30-day "no hassle" return. It's currently on sale for $463 and up. Herman Miller SAYL Chair
Readers, do tell: What do you think are the best office chairs for working from home? What about your chair at work — would you recommend it for home use, too? Regarding comfort, what are the most important elements of a desk chair for you?
We are a participant in the Amazon Services LLC Associates Program, an affiliate advertising program designed to provide a means for us to earn fees by linking to Amazon.com and affiliated sites.