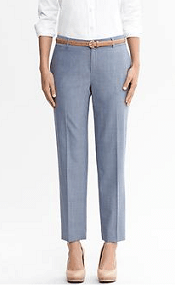 Can you wear slim ankle length pants with a blazer to look professional? Reader M asks a pertinent question:
Can you comment on how to wear slim ankle length pants with a blazer to create a professional look? I tried this last week and missed the mark because my shoes were too casual I think. Would love your input on this.
Oi. OK. We know I'm not 100% on board with this trend, generally thinking that cropped pants are too casual for very conservative offices. That said, logic dictates that they're here to stay, so we may as well talk about how to look as professional as you can in them. So I just looked at a zillion pictures of cropped pants — some by themselves, some with matching blazers, and a very few with mismatched blazers, and I have a few notes. But first, let's look at the picture above, which I think shows some of the worst styling mistakes I've seen, and demonstrates both rules really well:
– No platforms. Personally I think cropped/ankle-length pants look best if you ask WWAHW (What Would Audrey Hepburn Wear?), with the answer in my mind almost always being closed, pointy-toe kitten heels. I have seen them styled nicely with ankle straps, flats, loafers, and even sandals (know your office VERY well before you wear sandals to work, though), so I think my only real rule with shoes is that platforms just don't look right.

– When in doubt, leave the waist exposed (blouse tucked, no belt).  I had not noticed this before during my little survey, but almost all of the online stylists (I looked at about 30 stores) featured the pants with a neatly tucked blouse. J.Crew did the J.Crew half-tuck, of course, but the vibe was the same. Although a few places styled shorter pants with belts, I thought this only worked about 50% of the time. The only time I saw a totally untucked blouse that I liked was at Reiss (pictured at right), where the stylist was clearly playing with proportion and shape (skinny pants, flowy blouse, fitted blazer).
I think if you're working within those two rules, almost any blazer should work.  That said, because cropped pants are an inherently casual look, you may want to reconsider whether you even want to wear a blazer with them. Readers, what other rules would you add — how do you wear cropped pants to work?