These are some of our favorite comfortable low heels for work as of 2022! one / two / three / four (also Ferragamo, MMLF, and Sarah Flynt!)
Sure, we all know what basics professional women are supposed to have in their closets, but if you're buying one for the first time or replacing one you've worn into the ground, it can be a pain to find exactly the right incarnation in stores. In "The Hunt," we search the stores for a basic item that every woman should have.
Low heels that are feminine and cute can be difficult to find! We've looked before (in 2012, 2013 and 2015), and there are two Hall-of-Famers that I can think of: Stuart Weitzman Poco and the Cole Haan Juliana 45 (2″, $90-$160). In addition to those few, we've rounded up six other heels (below) that are currently on the market and all under 2.25″ — most are under $100. Readers, what is your favorite heel height? Have you gotten any great low heels recently? Can you think of any other "hall of famers"?
The below content concerns shoes that probably aren't available anymore!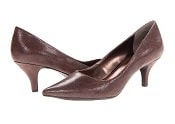 One of the most comfortable pairs of shoes that I've ever owned came from the Anne Klein iFlex line, so I always like to check that brand when we're doing a roundup. These Isana heels come in a zillion colors, have great reviews on Zappos and are available on sale at 6pm. They're $79 full price but are available as low as $31 at 6pm. (If 2.25″ high is too much for you, check out the Dabria heels from the same line, which are only 2″.) Pictured: Anne Klein Isana
I like the buckle detail on these Fitzwell pumps, and the numerous glowing reviews. The price doesn't hurt either: they were $69 but are now $50 at Zappos. Fitzwell Elizabeth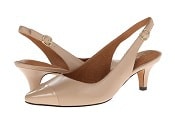 Another slingback option: The Sage Hallie pumps from Clarks Artisan line. At 2.25″ they're one of the taller heels, but they also have a hidden .25″ platform, which certainly helps. They're currently on sale for $78 (were $110). Clarks Sage Hallie
These Joan & David heels are new to me, but they have a solid five stars (with 99 reviews!) on Zappos, and they come in numerous colors. They're an even 2″ high, and $110. Circa Joan & David Callalily
These highly rated Isaac Mizrahi heels are only 1.5″ high, and come in some fun colors, including this lipstick pink (pictured) and even a silver metallic, if you like the look. They're $130 full price, but some colors (including the pink) are marked down; the pictured shoe is $69. Isaac Mizrahi New York Gabriel 3
OK, I'll grant you that these Rebecca pumps from Beautifeel are a teensy bit fug. But Beautifeel really does make very, very comfortable heels (the shoe beds are insane — like sneakers) — so if you're desperate for a pair of comfortable heels, these are a great compromise for comfort and style. They're only 1.75″ high and come in numerous colors. They're marked $85-$269 at Amazon. Beautifeel Rebecca Pump
Readers continually sing the praises of Salvatore Ferragamo heels, and these Rietta heels — clocking in at 2.25″ high — look great. (For once, I love the bow!) I am, of course, a fan of the Viola color (pictured), but they also come in black. They're marked down at Zappos — they were $575 but are currently marked $344-$402. Salvatore Ferragamo Rietta
Like this feature? Check out other recent installments!
We are a participant in the Amazon Services LLC Associates Program, an affiliate advertising program designed to provide a means for us to earn fees by linking to Amazon.com and affiliated sites.