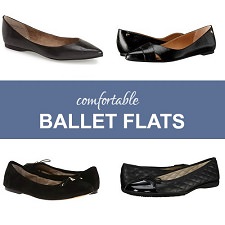 2018 Update: A lot of these options for comfortable ballet flats are still available — you may want to check our more recent discussion on cute flats for the office for more updated brand and style options. Links have also been updated below!
Sure, we all know what basics professional women are supposed to have in their closets, but if you're buying one for the first time or replacing one you've worn into the ground, it can be a pain to find exactly the right incarnation in stores. In "The Hunt," we search the stores for a basic item that every woman should have.
We've talked a lot about flats over the years, but I don't think we've ever done a major roundup of the most comfortable ballet flats for work.  So ladies, let's hear it — which are your favorites? What are your favorite ways to break in a new pair of flats, or make them more comfortable for your feet? (As someone with narrow heels I'm always adding these heel pads.) Although rounded toes have come really far for work, I still think the best flat for work is one that has a bit of a point to it, in a durable leather, preferably with a rubber sole or rubber heel for comfort and grip. I know some people hate the look of patent leather flats, but I don't mind them, particularly in a tumbled patent leather (like the Calvin Klein flat pictured below) or a color other than black, like a nice gray. We've rounded up some of the best-selling, highest rated styles below — which brands and styles are your favorite?
Nordstrom's in-house line, BP, continues to win rave reviews with the simple "Moveover" flat.  For $49 it's hard to go wrong — it comes in three colors, sizes 5-13, and has a zillion high ratings. BP. 'Moveover' Pointed Toe Flat
We've featured these Gaila flats from Calvin Klein before, and they're too good not to include here — I love the pointed toe, the slight cutout, the price ($99!) and the zillion colors the shoe comes in. Zappos has the shoe in five colors, while Nordstrom has it in another six mostly metallic colors (some as low as $69) — and Amazon has older colors in lucky sizes as low as $39. Pictured: I like this black tumbled patent from Zappos, full price at $99. Calvin Klein Gailia
A lot of shoes in today's roundup are styles I've been hearing good things about for years — but this is the first time the Felicia flat is coming on my radar. I like the affordable price point ($100), the rave reviews for comfort, the extended sizes (wide widths and sizes 4-13 — check out our bullet points above if you're looking for more extended size options), and the many, many color options.  Zappos has it in 14 colors (!), while Nordstrom has it in (!!!) 22 colors, with a whopping 971 reviews.  (How have I not seen this one before?) Pictured: this lovely Maliblu blue nappa leather, from Zappos, for $100. Sam Edelman Felicia
French Sole's ballet flats have long been on any list of the most comfortable ballet flats, and they have the 88 five-star reviews at Zappos to back that claim up. I like the quilted leather, the slightly pointed cap toe, and the adjustable cords at the front. Reviewers note that this one runs large; it's available in sizes 6-11 in basic colors at Zappos and Nordstrom. (Whoa, and Amazon has a ton of colors, with some lucky sizes as low as $45!) Pictured: French Sole PassportR
People looooove their AGL flats. Readers have been swearing by them for years, and when we talked about fashion for doctors, my hospitalist friend specifically recommended AGL flats for being able to walk for miles. They're definitely more of a splurge, but if you watch for Triple Points days (coming up May 4th!) or anniversary sales (come up July 22) you can often score some great deals on them.  Nordstrom currently has 10 colors available in their popular cap toe style, all priced between $298-$335. Pictured: AGL Attilio Giusti Leombruni Cap Toe Ballerina Flat 
You can't talk about comfortable ballet flats and not mention Ferragamo's legendary Varina — it just won't quit, and every season brings new colors and prints and more rave reviews. Nordstrom currently has 15 colors priced $525-$775, while Zappos has 12 colors, priced $525-$775 (ooh, including a fun stripey one). If you prefer a sneaker ballet flat, check out the newish style, Rufina. Pictured: this lovely "anemone patent" is at Zappos for $550. Salvatore Ferragamo Varina
Like this feature? Check out other recent installments!