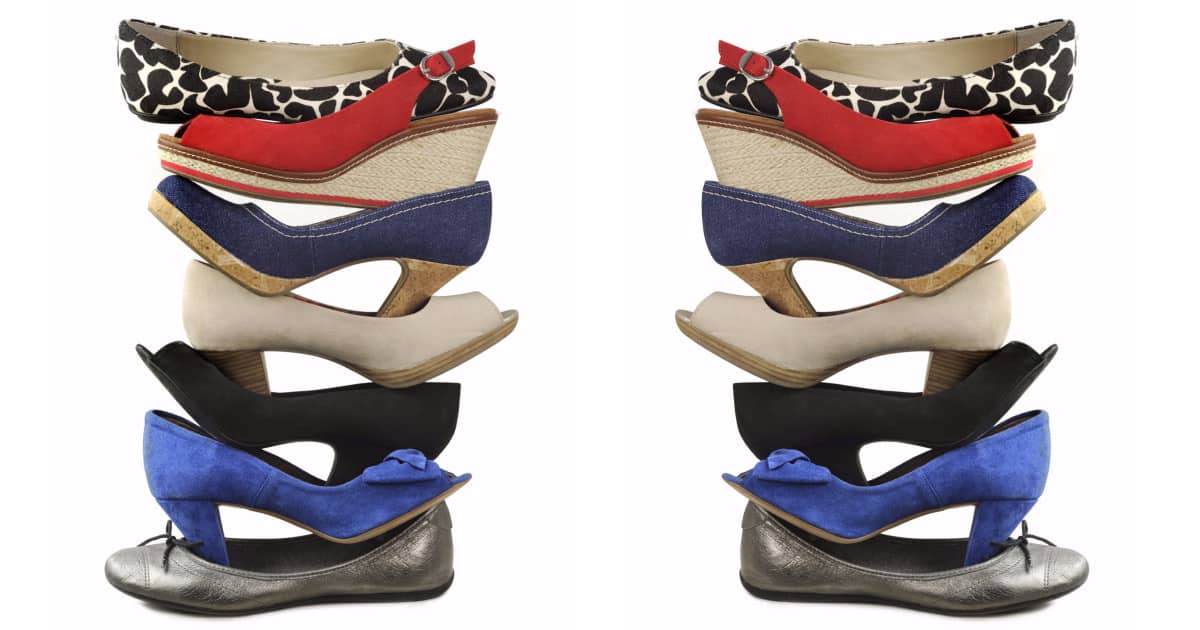 Reader S wonders about what color shoes to wear with different colors of pants…
Could you do a story on what color shoes to wear with different color pants? I never know if I should find shoes that match the color of the pant, the color of the shirt, black or something else.
Interesting. I've seen a handy-dandy guide for men on Pinterest, but I don't know if I've seen one for women. In general, I'd say that the question also depends on the kind of pants — which color shoes you choose to wear with ankle pants or straight pants matters much less because there's a stretch of skin; it isn't a seamless look; on the other hand for a full-length trouser that is closer to the floor (generally a wide leg, flare, or bootcut style) you're going to get a leg-lengthening effect if you choose the same color shoe and continue the line. My own breakdown would probably go like this:
Picture credit: Shutterstock/ Maram.
We are a participant in the Amazon Services LLC Associates Program, an affiliate advertising program designed to provide a means for us to earn fees by linking to Amazon.com and affiliated sites.
This post contains affiliate links and Corporette® may earn commissions for purchases made through links in this post. For more details see here. Thank you so much for your support!
What Color Shoes to Wear with Black Pants
I'd wear pretty much any color shoes with black pants, but my default would be either black shoes or colorful shoes — I think nude-for-you shoes might look odd unless they're ankle pants, but that's me.
What Color Shoes to Wear with Navy Pants
Black, purple, navy, red, or gray would probably be my default — I'm just not really a person who wears brown shoes. "Cordovan" is a reddish brown that is always said to go well with navy; it can be a bit tricky to find for women.
I've always heard that for men, "black dresses navy up; brown dresses navy down," so if you have caramel/tan/beige/brown shoes and want to wear them with navy, keep that in mind.
With a navy skirt I wouldn't think twice about wearing nude-for-you or tan heels, but when it's bare leg/pantyhose season I always think nude-for-you heels look good.
We've talked before about what color tights to wear with navy skirts.
Purple Heels for the Office
I've always loved purple heels because they're a great pop of color against navy — they're just a bit more fun than a gray or black.
2023 Update: Here are our latest favorite purple heels for the office!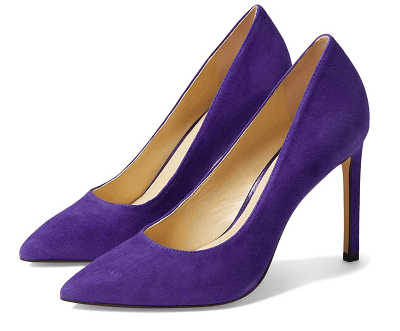 Sangria-Colored Heels for Work Pants
I've always thought of purple heels as winey, sangria-colored heels — but readers have pointed out that a lot of times purple heels are a bit brighter than wine-colored heels. If this makes a difference to you, here are some of our latest favorite sangria-colored heels for work…
Stay tuned for our latest favorite winey, sangria-colored heels for work!
What Color Shoes to Wear with Gray Pants
I'd wear pretty much any color shoe with gray pants, and I probably have. If you pick black it's a no-brainer; if you pick gray it elongates the line; if you pick any other color you can have fun with colors that compliment/contrast with other parts of your outfit.
(I'm often a fan of wearing, for example, purple pumps with a red accent because it's a very subtle way to have fun with color.)
(We've also talked in general about which colors to wear with gray suits, including for shoes.)
Other Thoughts on What Color Shoes to Wear With Different Colors of Pants, Pants Colors, and Shoe/Pant Choices for Work Outfits
In the abstract, other strong opinions that come up when I think about shoes and pants:
I'm not crazy about stark white shoes with pants. Maaaaybe with white pants in the summer.
I still hate metallic/mirrored/shiny shoes in general (it was super trendy to wear sky high shiny silver stilettos a few years ago)
Round toed-flats are almost never the right choice to wear if you want something sleek and sophisticated — but they tend to look particularly bad with full-length pants.
Hem your pants for the shoes you intend to wear with them! I've often found that a pant that's hemmed for flats also looks good with a kitten heel or small wedge heel; on the flip side, if you want to wear 3″ heels with your pants at work but want something more comfortable for commuting, lots of "comfort" brands have stacked/wedge options that will maintain the hem height so your pants don't drag on the floor, but be farrrrr more comfortable for your commute.
2023 Update: Some of our latest favorite commuting heels are pictured below – also keep an eye out for brands like FLY London, Dansko, Eileen Fisher, Børn to help you maintain height for pants hemmed for heels — but with more comfortable shoes for your commute.
Another option: wedge sneakers.

I'm all for wearing strappy shoes with pants (much more comfortable, and a full length trouser hides whatever ugly things the straps do to your legs)
I'm opposed to shoes that have details that are going to snag on your pants, such as rockstuds. If you've got a pair of shoes with bows on them, you may find that they look adorable with ankle pants but affect the way a full length trouser "falls" when you walk.
If you're looking for a few "fun shoes" to buy to expand beyond basic black, I always like purple shoes, but a jewel tone like red, emerald, or cobalt can be a great pop of color.
(Check out our Guide to Comfortable Heels for a lot of other brand suggestions and tips.)
Readers, what are your thoughts? Have you ever struggled to pick out shoes to wear with your pants? What are your best tips on what color shoes to wear with different colors of pants? What rules do you follow? Which pair of shoes do you own that gets worn the most with pants?