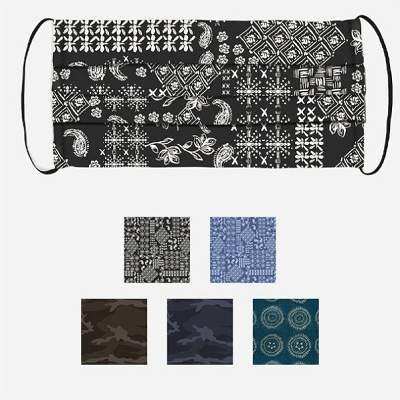 Readers have been singing the praises of Johnny Was masks for weeks now. (They're so popular among commenters that someone even jokingly called these masks the new "Skirt".)
I got my order last week (of the cotton, "neutral" order) and really like them. Ours are a pleasing combo of pinstripes, camo, and the top pattern with diamond shapes (pictured in black and blue).
Having seen a lot of single masks on Etsy costing $15 (plus shipping), the 5-for-$25 combo seemed like a great deal. I would have gone for the silk ones (5 for $40), but I have heard readers doubting if their entire order was silk, so your mileage may vary.
The ear straps are OK, but probably best for short jaunts as opposed to all-day wearing, unless you get a mask-clip like this one or this one.
(And! Do not attempt to wear long dangly earrings with your mask! At least, I was very confused for a few minutes.)
What masks have you found that you'd buy again? (Big thanks to this reader for posting a really helpful review of lots of workwear stores' masks!)
Psst: The WSJ answered 10 somewhat funny questions about masks, including how to prevent your giant sunglasses from fogging up and whether matching them to your outfit is acceptable/required. Science Daily reported on recent studies that found masks are essential for stopping the spread of COVID. (Also, the pee meme is pretty funny if you haven't seen it.)
Psst 2: If you've been waiting for Amazon's Kindle Paperwhite to go on sale (like I have), now is a pretty decent price — down to $99 from $130.
This post contains affiliate links and Corporette® may earn commissions for purchases made through links in this post. For more details see here. Thank you so much for your support!