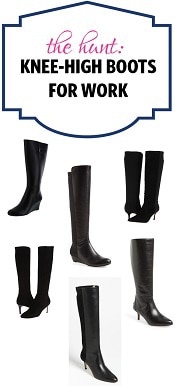 2017 Update: We still like a lot of these knee high boots for work, but you may also want to check out our most recent discussion on what boots to wear with tights to work. 
Sure, we all know what basics professional women are supposed to have in their closets, but if you're buying one for the first time or replacing one you've worn into the ground, it can be a pain to find exactly the right incarnation in stores. In "The Hunt," we search the stores for a basic item that every woman should have.
We haven't done a roundup of knee-high, heeled boots for a while (2013, 2012), so I thought we'd go on the hunt. (Note that in our last poll, almost 70% of readers said knee high boots were office-appropriate with regular skirts (not minis) — still, knee-high boots are definitely still a know your office situation.) Note also that I'm going to do an entirely separate roundup for flat dressy boots (hopefully in two weeks) — so please stay tuned!
Some great general sales to note if nothing here strikes your fancy:
A few particular shoes for various special interests, not pictured:
Without further ado, here's our roundup of knee-high boots for the office — have you bought any lately? What are you looking for in a knee-high boot for work?
Payless's comfort lines continue to get good reviews from readers, so I'm starting the Hunt with these tall wedge boots from Dexflex Comfort. They're available in sizes 5-13, and regularly priced $75, but they're marked to $50 — try code ZZNOV20 to take an extra 20% off (online only). Dexflex Comfort Women's Tally Tall Shaft Wedge Boot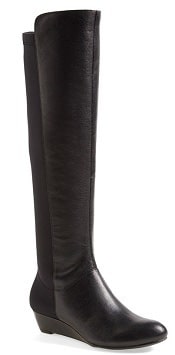 Reviews are really mixed on this wedge boot from Jessica Simpson, but if I were looking for another under-$100 pick, I'd give this one a shot. It's available in sizes 5-12 in regular sizes (but note that it allegedly stretches to fit a wide calf), and has a 1.5″ heel. They were $99.95, but are now marked to $80 at Nordstrom. Jessica Simpson Beagan Wedge Boot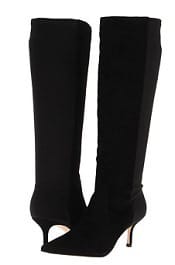 These Issa boots are best sellers at Zappos — I like that they come in black and brown suede, black and brown leather, and a grey suede. They're $189, available in sizes 5.5-11. (6PM has a very similar style marked down to $152 from $255.) Ivanka Trump Issa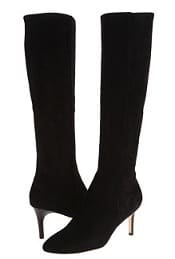 These Elisha stretch boots are also bestsellers at Zappos, and it's easy to see why — they look super sleek and streamlined. They're available in narrow widths as well as regular widths, and are $448. Note that another Cole Haan boot has bestseller status over at Bloomingdale's, and comes in wide calf sizes: the Carlyle. They're $398 but marked to $277, in regular and wide calf sizes — note that Amazon has both regular and wide for $266, plus take an extra 25% off with code HOLIDAY25. (D'oh: note that the pictured boots, the Elisha, are also eligible for the Amazon promo, bringing them down to $336. If you prefer Nordstrom, the Elisha is in stock there, has a million positive reviews — and Nordstrom will price match the Amazon price.) Cole Haan Elisha Stretch Boot
These Coach boots are highly rated at Nordstrom — I like the matte leather, the fairly low boot shaft height (17″) and the 2.5″ heel.  They're $398. Coach Foxy Boot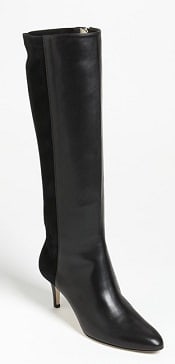 Come to mama: I'm drooling over this Jimmy Choo boot.  It looks sleek and gorgeous, and I like the fact that they use suede (instead of elastic) to help with calf-fit issues.  The boot is $1,150 at Nordstrom (limited sizes left, alas). Jimmy Choo Aiden Boot
Like this feature? Check out other recent installments!